Duke of York still focus of many Sunday papers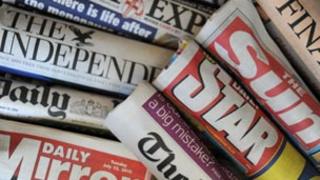 The focus for many papers is Prince Andrew's links with the American businessman convicted of soliciting an underage girl for prostitution.
The The Sunday Telegraph says there is "great concern" at the "highest level of government" about the Duke's friendship with Jeffrey Epstein.
The paper says he held "top level talks in Whitehall" as he "battled" to save his job as trade ambassador.
The Telegraph says the relationship was "a disaster waiting to happen".
Prince Andrew is also the main story for the News of the World, which says he should "consider his position" as Britain's special trade envoy.
The role, says the paper, demands "delicate judgement" - and "Andy's is in very short supply".
But the Sunday Express says Prince Andrew has "vowed to keep his role" as trade emissary, telling friends he is the "victim of a smear campaign".
The Mail on Sunday also calls for the Prince to relinquish his role.
As the wedding of Prince William approaches, The Sunday Times claims police are "cashing in" on the "big day" because they can claim double pay.
The paper says the cost of policing the event has risen to £20m and the police have been forced to send a "begging letter" to the Home Office.
Europe's biggest bank, HSBC, has drawn up plans to move its headquarters out of London, says the Sunday Telegraph.
It says the bank wants to move to Hong Kong because of "tax and red tape".
'Forget Two Jags, here comes David New Jags Cameron' - says the Sunday Times, which says the PM has "dented" his green credentials with two new Jaguars.
The Mail on Sunday, which also has the story, says the "mobile fortresses" are equipped to withstand chemical attacks and a "volley" from an assault rifle.
The Sunday Times says former Tory MP Douglas Hogg has been "blocked for a peerage".
It says Mr Hogg's moat cleaning claim symbolised the expenses scandal.