German radio runs controversial funeral contest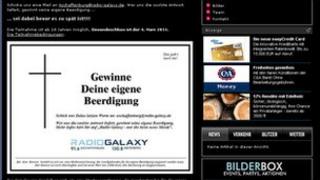 A German local radio station is offering a competition prize much closer to home than an exotic holiday or tickets for a celebrity concert.
How about a cheque to cover your own funeral? That is what the lucky winner will get in Radio Galaxy's competition in Aschaffenburg, north Bavaria.
More than 600 contestants have sent in their own epitaph for their headstone. The winner will be chosen on Wednesday.
An association of undertakers calls it "tasteless" and is suing Radio Galaxy.
One of the radio's presenters, Jens Pflueger, defended the competition, saying it was aimed at breaking society's "taboo" about death and getting young people to talk about it.
"We wanted to raise awareness about this difficult topic among young people," he told the BBC.
Youngsters form the music station's target audience.
Court case
The prize is 3,000 euros (£2,578; $4,195) which has to be spent on death insurance - money that will cover funeral expenses.
In a statement on its website, the Association of German Undertakers condemned the competition.
"This activity is not just impious and tasteless, it is also immoral as regards the law against unfair competition," it said.
An Aschaffenburg funeral director, the Erich Kraus Institute, is sponsoring the competition.
Mr Pflueger said a court ruling on the competition was expected on 17 March - after the winner has been announced.
"We want people to send in their own epitaphs. If they send someone else's quote that's OK, but for me that's not creative enough," he told the BBC.
"We want to demonstrate that it's good to get death insurance. Older people say it's tasteless, but we're not joking - we're discussing this on air."
He said some epitaphs may be amusing, but "people can express themselves how they like".
Contestants can easily find some inspiring examples of famous epitaphs.
Winston Churchill never lost his sense of humour, even on his deathbed, saying: "I am ready to meet my Maker. Whether my Maker is prepared for the great ordeal of meeting me is another matter."
Comedian Spike Milligan's epitaph said: "I told you I was ill."
Crooner Frank Sinatra chose the title of one of his songs: "The best is yet to come."