Newspaper review: Papers track Libya 'blame game'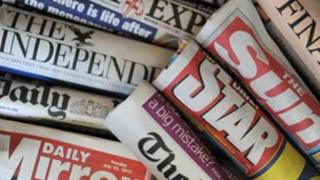 The Daily Telegraph speaks of a blame game starting in Whitehall over the botched SAS mission to Libya.
The paper is among several which say Foreign Secretary William Hague made clear in his statement to MPs that Prime Minister David Cameron and other ministers were privy to the operation.
The Daily Express describes Mr Hague as being "on the ropes", while the Daily Mail says No 10 hung him out to dry.
"Hague takes flak for SAS" is the headline in the Daily Star.
Witty sarcasm
Mr Hague's performance in the Commons over Libya fails to impress the sketch writers.
Mockery was once his great weapon, says Quentin Letts in the Daily Mail.
Yet on this occasion Mr Hague was stung by the witty sarcasm of Labour's spokesman Douglas Alexander, he writes.
The Guardian's Simon Hoggart says the foreign secretary attempted to put the best face on what went wrong for the SAS, adapting its motto to one for politicians - Who Dares Spins.
New snaps
The Duke of York is the target of more criticism over his role as a UK trade envoy amid the row about his friendship with a convicted US sex offender.
The Independent declares he has gone from royal asset to national liability.
On a happier note for the royal family, the Times is among papers carrying newly published pictures of Prince William's fiancee, Kate Middleton.
They include a photo of her as a three-year-old climbing a slope during a family holiday in the Lake District.
Beach ceremony
On the subject of weddings, the Guardian says couples with a taste for the exotic might like to consider Bournemouth for their nuptials.
The Dorset resort is hoping to become the first in England and Wales to be able to offer weddings on the beach.
Tourism chiefs insist Bournemouth can challenge destinations such as the Caribbean and the Maldives.
However, the paper notes that local hotels will provide a back-up wedding venue if the weather proves inclement.