Newspaper review: Graphic despatches filed from Libya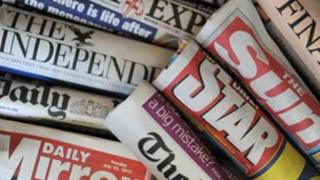 As Colonel Gaddafi's forces intensify their onslaught against Libyan rebels, Deborah Haynes of the Times reports from Zawiya, 30 miles from Tripoli.
She describes walking through Zawiya's main square which had, until Wednesday, been in rebel hands.
"An army of labourers loyal to the Libyan leader were clearing evidence of terrible violence," she writes.
Bill Neely in the Guardian likens it to combining a huge IRA bomb with a tank battle and an artillery barrage.
Air strikes
The Sun says two of its men, reporter Oliver Harvey and photographer Dan Charity, came under attack from one of Col Gaddafi's bombers.
The paper says they were just 100 metres away as a missile struck in Libya, but escaped the blast.
The Financial Times reports that France is talking to its allies about air strikes on Libyan airfields.
President Nicolas Sarkozy's suggestion, however, gained little traction with some other EU leaders, the FT notes.
Walkout fears
The Daily Express says "ministers are determined to crush a mass revolt" by trade unions over plans to cut public sector pensions.
Union chiefs warned that millions of workers will walk out in a series of co-ordinated strikes, says the Express.
The paper fears that such action could jeopardise economic recovery.
Daily Telegraph cartoonist Matt has a pensions adviser asking a concerned client: "Have you considered befriending a wealthy despot?"
Vote plea
Elsewhere, the Telegraph reports that BAA chief executive Colin Matthews has been awarded a £150,000 pay rise.
This, the paper says, is despite Mr Matthews apologising to MPs earlier this week for BAA's failings in coping with the heavy snow before Christmas.
A group of 26 prominent historians has written to the Times to argue against a change to the Alternative Vote system.
This would destroy the notion of "one person, one vote", on which modern democracy is built, they say.
However, the pro-AV president of the Liberal Democrats, Tim Farron, replies that under the current system, for three-quarters of the electorate "their vote counts for nothing".