L/Cpl Stephen McKee death: NI politicians pay tribute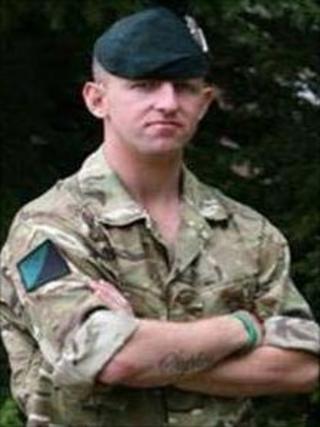 NI politicians have paid tribute to a 1st Battalion The Royal Irish Regiment soldier who was killed in Afghanistan.
Stephen McKee, 27, from Banbridge in County Down was taking part in an operation in Helmand province when his vehicle hit a roadside bomb.
First Minister Peter Robinson said "the tragic news reminds us of the supreme sacrifice our armed forces pay too regularly in service of their country".
UUP MLA Danny Kennedy, a friend of the McKee family, passed on his sympathy.
"The McKee family has a proud history of service to this country and this tragedy sadly mirrors the same fate which befell Stephen's uncle Richard, a member of the UDR who was murdered by the IRA during the Troubles," Mr Kennedy added.
L/Cpl McKee leaves behind his wife Carley, his parents Heather and Bobby, his brothers Michael, Gareth and Robert, and his sisters Kelly and Rebecca.
The Ministry of Defence has said he was a "fine soldier, trustworthy and courageous".
Mr Kennedy's party leader Tom Elliott said the death would be felt far beyond Banbridge.
"The Royal Irish is itself a family and it is one which is held in the highest esteem by tens of thousands of people in Northern Ireland," he said.
"The loss of one of our soldiers has a great impact and I hope and pray that the thoughts and best wishes will be of some comfort to the McKee family at this awful time and in the days ahead."
MP for Banbridge David Simpson said people right across the area had been deeply saddened by the news.
"This brave young soldier gave his life attempting to bring peace and stability to Afghanistan an to build a better future for the Afghan people."
We all hope that the circumstances come about as soon to allow our troops return home. However, whilst they continue to serve, they can be assured of our unswerving support."
The 1st Battalion The Royal Irish Regiment is based in Tern Hill, Shropshire.
L/Cpl McKee is the third Royal Irish Regiment soldier to have been killed on the current tour of Afghanistan.