Foreign Secretary William Hague rejects quit claims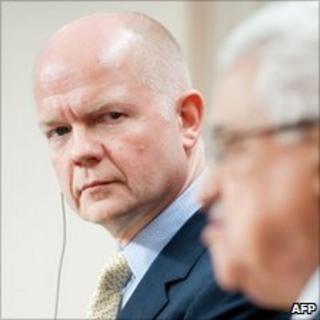 Foreign Secretary William Hague has rejected claims he might resign over his handling of the Libyan crisis and denied he has lost his "mojo".
He told the Sunday Telegraph he had wide support in his party and people should "get used" to the idea.
Senior Liberal Democrat Sir Menzies Campbell is among those who have openly questioned his commitment to the job.
Mr Hague has been criticised over a botched SAS mission to Libya, and the slow evacuation of UK nationals there.
He told the paper: "If some of the people who write about mojo came with me for a week, they would drop dead on their feet."
He also cited the prime minister's strong "public and private support" and described the job of foreign secretary as "addictive", adding he had not returned to front-line politics just to quit so soon.
"I gave up lots of things I love doing: writing, and business, and playing the piano and so on," he told the paper.
"I wouldn't give up all those things and come back into politics because I wasn't interested in it. Why on earth would I do that?
"There were two reasons I came back into politics - to support David Cameron and to serve the country. I am not walking away from those things. People had better get used to the idea."
Mr Hague's appetite for front-line politics was questioned last week following criticism of his handling of the government's response to the Libyan crisis.
In heated scenes in the House of Commons, Labour leader Ed Miliband said there had been a series of mistakes, including delays getting UK nationals out of Libya and Mr Hague's incorrect announcement that Libyan leader Col Muammar Gaddafi had fled to Venezuela.
Mr Miliband said there was an "issue of competence at the heart of this government".
Sir Menzies added of Mr Hague: "I am not sure just how enthusiastic he is about this business. It is very, very hard... it is a very, very demanding job."
But Prime Minister David Cameron defended his minister, saying he was an "excellent foreign secretary".
In response to the criticism, Mr Hague said last week: "All of us who have taken on the job of shouldering responsibilities at this time must see those responsibilities through for an extended period of time in the face of any criticism or setbacks".
BBC political editor Nick Robinson said that response had partly prompted the questions about his enthusiasm.