Newspaper review: Quake aftermath fills front pages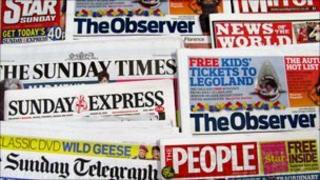 The effect of Japan's massive earthquake and tsunami is the lead story in almost all the Sunday papers.
The Sunday Mirror's headline reads "Wiped out" above a photo of a devastated town of 17,000 people where 9,500 are missing, presumed dead.
The coastal resort of Minamisanriku is, according to the The Mail on Sunday, the "town that vanished".
The Sunday Telegraph describes the situation as "devastation", saying whole towns were "washed away".
'Nuclear nightmare'
The Sunday Times directs its coverage towards fears of a nuclear meltdown after a power plant exploded. The People calls it a "nuclear nightmare".
The Sunday Express shows a picture of a child living near the damaged reactors being checked for contamination.
Meanwhile, the Observer carries a photograph of a rescuer pulling a child from a building, a day after the quake struck.
The Independent on Sunday says Japan is fighting back from the tsunami hell, with the rallying call "don't give up".
No-fly zone
The on-going political turmoil in Libya also features widely in the papers.
The Observer quotes a leading member of the revolution saying if Col Gaddafi's forces reached Libya's second biggest city, half a million people would die.
The rebels accuse the West of selling them out, according to the Sunday Times. And the Sunday Express warns civil war could split Libya in two.
The Sunday Mirror says the Arab world has turned on Col Gaddafi, demanding the UN imposes a no-fly zone over Libya.
'C-section ban'
The Sunday Telegraph tells us laws on maternity and paternity leave is likely to be relaxed for smaller firms.
The People, meanwhile, claims the speed limit on motorways may be raised 10mph in time for the summer holidays.
The Observer says the Lib Dems' spring conference has inflicted a crushing defeat on Deputy PM Nick Clegg over the coalition's planned NHS shake-up.
Finally, the News of the World claims some NHS bosses are axing caesarean sections to help meet government demands to save £20bn.