Night Stalker case: Delroy Grant's reign of terror ends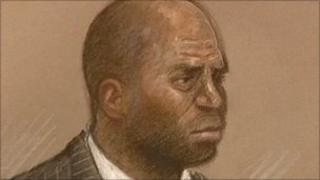 Delroy Grant has been convicted of 29 charges, including rapes and sexual assaults, relating to 18 people. But one of the senior officers involved in the case believes he may have committed as many as 600 offences.
For at least 17 years one man prowled the dark streets of south London, peering into the homes of elderly residents, looking for targets to rob and rape.
Grant, 52, was single-handedly responsible for terrifying hundreds of vulnerable people. At one point 70 Metropolitan Police officers were trying to catch him - it was the biggest serial sex attacks case the force has ever investigated.
Senior detectives often said the assailant would be known to friends and family as an entirely normal man, but with a secret life. They knew their task would be, as Met Police Commander Simon Foy put it, to "trace the stranger in our midst".
'Family man'
Grant was precisely that. Calm in court and studiously polite during his trial, he had cared for his multiple sclerosis-sufferer wife. He had eight children from two marriages and was known to neighbours as a family man.
But he was also a gerontophile. He actively pursued sex with elderly people.
Police believe Grant, who came to Britain from Jamaica in 1972, may have started breaking into homes as early as 1992.
He looked for bungalows; properties with handrails fitted outside; the homes of the elderly and frail.
Sometimes he would exploit a "design flaw" in older double-glazed windows that allowed external beading to be pulled away and the entire pane removed.
Once inside, he typically cut phone lines, hid mobile handsets and took out light bulbs. He would then wake his victim, and their ordeal would begin.
These are the details of just one case in 1992, the first of 29 counts presented by the prosecution.
Delroy Grant's 89-year-old victim had been reading.
"Her bedroom door opened. She saw a man... his face was covered by a balaclava. He went over to her and forced a black glove over her mouth. He shouted at her to be quiet. She asked whether he wanted money," police said.
"She gave him money from her purse (£25). He took the bulb from her lamp. He then raped her."
Another victim, aged 88, has said: "I cannot emphasise enough my feelings of embarrassment and humiliation during the attack and subsequently. I feared for my life and believed I was going to be murdered."
'Stealing sex'
Yet sometimes Grant would appear caring towards those he abused, supporting their elbows as he moved them around their houses, as if he had experience of helping the elderly. He spent several hours in some homes.
Forensic psychologist Professor David Canter, of Huddersfield University, believes Grant was a type of offender who graduated from burglary to "stealing sex".
"For them stealing anything is potentially acceptable, and that would include stealing sexual activity - using a person as some sort of surrogate, and often thinking that they have every right to do so," he said.
The burglaries went on and on, as police began the long-running investigation code-named Operation Minstead. With no identity for their suspect they nicknamed him "Minstead Man", and break-ins with characteristic signs became "Minstead burglaries".
Over the years they recorded 203 offences, but former Det Ch Insp Colin Sutton - who led the operation in its latter years - believes there may have been as many as 600.
Other officers who've seen the case through from the start believe the number is smaller - perhaps 250.
Incidents investigated as part of Operation Minstead
Sometimes the burglaries and rapes stopped - police still have no idea why. Grant has always refused to discuss his offending in any detail.
Police tried everything to catch him. They ran Crimewatch appeals and reconstructions, carried out offender profiling, compiled maps of where the burglaries happened and released a photofit of a man in a balaclava.
Faced with the problem that DNA gathered at the scene did not match any sample in the national DNA database, they tried what is known as "ancestral DNA profiling".
Experts identified genetic signs of his ethnicity and decided he was of Caribbean origin. A team even went to Trinidad to appeal for help.
Hundreds of DNA samples were taken from the population in south London - in itself controversial because many of the men tested were black. More than 4,500 were eliminated from police inquiries.
'Awful and disturbing'
But, in the end, Grant was caught using old-fashioned policing muscle.
In 2009, "Minstead Man" began to burgle up to three houses a night.
In response, for two weeks in late October and early November an area of Croydon was flooded with 70 police officers carrying out covert surveillance. Every night they watched, and waited. The burglaries continued.
And then, on Saturday 14 November, an officer saw a suspicious man run towards a car and drive off.
The car was stopped and searched. In the boot were a jemmy, spare clothes, gloves and a hat. At the place where it had been parked a police dog followed a scent trace back to a house which had just been burgled.
The man was arrested. He gave his name as Delroy Grant.
Police say while his fingerprints were being taken, Grant said: "I don't know why you're bothering, I always wear gloves." But despite this apparent admission of the crimes, he then went on to construct an elaborate and, the court heard, "extraordinary" defence.
He claimed his ex-wife from the 1970s asked someone to plant DNA samples she had collected while they were married at dozens of crime scenes in the 1990s - so unlikely was it that the prosecution reduced by half their estimate of how long the trial would take.
Despite Grant's outbursts in court - he called his former wife a "liar" - the jury rejected his complex explanation of the burglaries and sex attacks.
Commander Foy says Grant was responsible for "some of the most awful and disturbing crimes in the history of the Met".