Newspaper review: Focus on nuclear plant heroes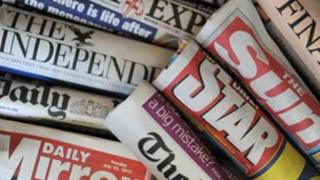 Workers at the Japanese nuclear plant at the centre of its crisis provide a new focus for some papers.
They're known as the Fukushima Fifty - and they are, says the Daily Telegraph, "all that now stands between Japan and the world's worst nuclear accident".
The paper says the only workers left at the stricken nuclear plant are engaged in a "desperate struggle" to save their countrymen, and themselves.
The Guardian says they have become the country's "faceless heroes".
As the post-tsunami search goes on, the Sun and the Daily Mirror publish a photo of a woman clutching the hand of her dead mother, buried in rubble.
The Telegraph reports from a school where 30 pupils have spent six days waiting. No-one came to collect them after the tsunami hit their town.
And the Mirror blames William Hague for bureaucratic problems that saw a UK rescue team forced to leave Tokyo. Whatever the problem, says the Mail, officials should have "strained every sinew" to make the mission possible.
Rhys the barman
With less than a week to go until the Budget, the Independent reports that the chancellor is considering a radical change to the tax system.
It says he is expected to signal that income tax and NI will be merged - a move that would raise income tax.
"Royal Wootton Bassett, we salute you" says the Sun - one of several papers pleased the town is to be recognised for honouring service personnel.
The Daily Express says its people have earned the accolade "royal".
Rhys the barman will finally have his say, says the Telegraph, with the Archers character - whom is never heard - finding his voice in a spin-off show.
Ambridge Extra is being launched on BBC Radio Four Extra.
And the Times says the home of English cricket is to host its first civil wedding ceremony.
Neil Nicholson and Kelli Fish will tie the knot at Lord's in August. As on previous visits, Mr Nicholson's only fear is that it will start raining.