Newspaper review: Libya resolution divides opinion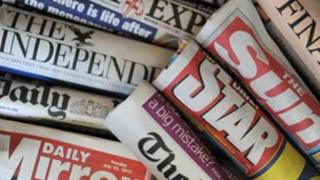 The looming prospect of military action against Col Gaddafi's forces makes some front pages - although the UN vote came too late for the earlier editions.
"War on Gaddafi" says later editions of the Sun, which adds "RAF top guns" could go into action as early as today.
The Independent says it was "an extraordinary decision that had looked as if it might never come"..
The Daily Telegraph's Richard Spencer says the intention must be to drive Gaddafi from power..
The Guardian says "with a boldness the world had begun to believe he lacked, Barack Obama has gone for broke".
But its writer Simon Tisdall has misgivings about intervention, saying "disaster is... one possible outcome".
Patrick Cockburn, in the Independent, says "there is less clarity with Libya" than with Afghanistan and Iraq .
In the Financial Times, Max Hastings says it would be "madness" to commit forces to destroy Colonel Gaddafi, with no notion of what would follow.
Turning to Japan, the FT says workers at the Fukushima nuclear plant have made "little tangible progress".
With many embassies advising citizens to leave Tokyo, one diplomat tells the paper Japan is being seen as "incompetent" or even "untrustworthy".
Almost a quarter of Japanese people are 65 or over and they are suffering the most as heating fuel and medical supplies run out, says the Guardian.
One woman, 80, tells the Mirror this is worse than Hiroshima in 1945.
Yesterday's disclosure of the pay levels of senior RBS staff is the main news in the Daily Mail.
It says critics view it as "further evidence that banks [are] divorced from reality". The Mirror calls the RBS chief's £7.7m pay package "obscene".
The Daily Express and Telegraph report on an agent's bid to sell a house by saying buyers could enjoy "being scruffy" and "gazing at pond life".
He says he was referring to the large rear garden but neighbours complained.