Prince William's NZ-Australia tour shows human touch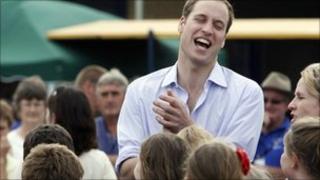 For two countries which seem unsure, at times, whether they want to keep the monarchy, Australia and New Zealand certainly appear to have developed a great affection for the young man who, as things stand, is due one day to become their king and head of state.
Prince William travelled to both countries, at short notice, to offer support to communities which have been devastated by recent natural disasters.
In New Zealand it was the Christchurch earthquake. In Australia it was the floods and cyclones which destroyed areas of Queensland and Victoria. In both countries lives have been lost, people made homeless and communities traumatised.
So this was no gentle royal progress. It was an emotionally stretching five days during which William has met many bereaved families.
He has been called upon to offer comfort and support and to try to lift the spirits of people who have every reason to be wary, and even cynical, of "celebrity" visitors breezing in with a few warm words.
The fact that William has succeeded so obviously, and at times spectacularly, over the past few days has been due to his own personal qualities of sincerity and warmth.
Much has been made, particularly in the Australian media, of comparisons with his late mother. Such comparisons are unavoidable, if at times a little overdone.
What William has done is to develop his own style, to an extent that we haven't seen before.
He's taken time with people. He's listened. He's been softly spoken and good mannered and, again and again, he's shown that he understands the importance, when you are dealing with people who have been traumatised, of human contact.
A comforting hand on the arm, a hug. It seems so simple.
His mother certainly knew the value of such gestures. Certainly it's not something most of the older members of his family have ever thought was appropriate or would ever feel comfortable about attempting.
And just as William has shown a confidence about dispensing with some of the formality normally associated with a visit by a member of the Royal Family, so too has he shown a greater ease about the occasions when a "formal" royal performance has been required.
In Christchurch he spoke at the National Memorial Service for the victims of last month's earthquake, which claimed more than 160 lives.
Tens of thousands of people had gathered in a city-centre park. William was sharing the platform with New Zealand's prime minister and other prominent politicians, all of whom are used to making major speeches at major occasions.
But the most eagerly awaited speech was the one by the least experienced public speaker, William.
"Today I represent the Queen," is how he began. And then, in measured, deliberate tones he spoke of his admiration for the people of Chrtistchurch.
It wasn't a long speech and it lacked the rhetorical flourishes of some of the politicians. But it worked because the words and the sentiments were clearly his and it was delivered with an obvious sincerity.
And so what are the longer term implications of a tour during which William has received almost universal praise within Australia and New Zealand?
Within both countries there are significant voices which have indicated that once the reign of the present Queen comes to an end it will be time to move on and to cut the ties with the crown.
Within Australia, one of those who has indicated that that will be the moment for the country to become a republic is the present prime minister, Julia Gillard.
Part of the case that republicans in Australia have made is that they would not want a King Charles as their head of state.
But now William has stepped onto the stage and demonstrated a very sure touch.
Very soon he will have a wife at his side. Together their appeal as a modern royal couple will be considerable.
In the short term, William must complete his service as an RAF search and rescue pilot. That will take him though until 2013. At least until then the opportunities for him and his new wife to travel abroad on royal business will be comparatively limited.
But once they do - and they will be going on their first overseas tour together to Canada at the start of July - the wider world will have a chance to witness what Australia and New Zealand have seen over the last few days.
Except that, in future, there won't just be William, there will be William and Kate, or Catherine as some people insist we should call her.
The Royal Family is moving on. Over the past few days we have had a clearer glimpse than before of what its principal long-term standard bearer is capable of.
William charmed New Zealand and Australia. Will that have an impact on the debate about the future of the monarchy in those two countries?
It's much too early to say. But I would suggest that we are only just starting to witness the impact William is capable of having on the monarchy's future.