Newspaper review: Night Stalker case widely reported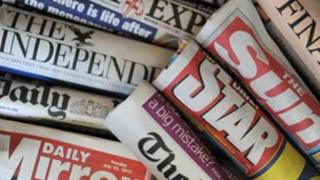 The conviction of the rapist known as the Night Stalker prompts several newspapers to question Scotland Yard's failure to catch him sooner.
The Times reminds its readers that police blunders allowed him to strike again and again, for an extra 10 years.
That meant he was free to attack another 146 victims, says the Guardian.
The Daily Mirror says the 17 year hunt finally ended in just 17 days, when Scotland Yard brought in one of its top homicide investigators.
Detective Chief Inspector Colin Sutton, who led the successful hunt for the night stalker explained the methods used to finally catch him.
"DNA was an obsession," he tells the Sun, explaining that he decided to change this approach.
He told the paper he got 75 officers to stake-out a large area of south-east London until Grant entered their trap.
The Daily Telegraph concludes that CCTV and DNA profiling are important tools but cannot replace detective work.
Portugal can blame no-one but themselves for its failing economy, says the Financial Times which believes Lisbon is still in economic denial.
The Daily Mail notes that the UK may have to contribute about £6bn to a bail out package.
The Mail says many British taxpayers will find it extremely hard to understand why we should help.
It suggests Portugal's woes lie in its failure to implement the kind of austerity drive that has hit the UK.
The Independent's front page concerns its interview with a man suspected by some of being the gunman who killed Pc Yvonne Fletcher in 1984.
Coronation Street star Kym Marsh tells the Daily Mirror her new baby, Polly, is "an absolute belter".
And the Daily Express report on what it calls a "TV blunder" by Nick Clegg.
It concerns a private joke by the deputy prime minister to David Cameron about their apparent closeness that was picked up by a TV microphone.