Newspaper review: Papers reflect on battles in Libya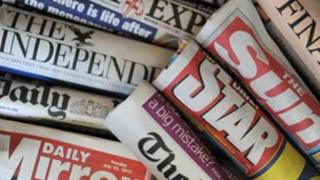 The Libyan town of Sirte is Colonel Gaddafi's Stalingrad, according to the Daily Telegraph.
It says it is a front-line town with ample shelter against coalition airstrikes and a stronghold where his forces can dig in against the rebels.
The battle for Sirte could be the decisive encounter of six weeks of conflict, the Guardian says.
It says the rebels are irrepressibly optimistic and predict they will be in Tripoli within two or three days.
'Early exit'
A poll carried out for the Independent suggests that seven out of ten people fear that Britain could be pulled into a prolonged conflict like in Iraq.
It says the fears chime with the private views of many MPs who want an "early exit strategy".
Max Hastings, in the Daily Mail, says the US is more concerned about events in Yemen, as it has become the principal haven of al-Qaeda terrorists.
He says the West knows little about the insurgents it is helping to victory.
Wealthy tensions
The Daily Telegraph revisits the debate over the so-called mansion tax on expensive homes.
It says senior Tory sources told the paper that ministers will block any attempt by the Liberal Democrats to force through such a levy.
The Financial Times says tensions within the coalition over targeting the wealthy have been exposed.
But it says the government should press on with the property tax regardless of its political awkwardness.
Old rockers
As the Easter break approaches, the Daily Express warns that holidaymakers face ruined trips and chaos because of the British Airways vote for strikes.
And the Independent says there's such a shortage of new music talent around that this summer's festivals will be dominated by veteran rock acts.
All the most popular ticket sellers have been around for years: U2, Pulp, Bon Jovi, Morrissey and the Cure.
A music industry figure says it is due to the chart dominance of hip hop and R&B.