Newspaper review: Should West help arm Libyan rebels?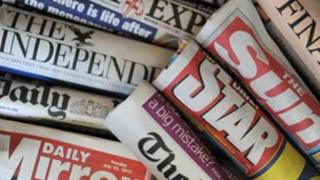 Many of the papers consider the idea that the West might give weapons to the rebel forces in Libya.
It was raised by Hillary Clinton at the London conference on Tuesday and makes the lead for the Guardian.
The Daily Mail says the case for arming the rebels became more pressing after Colonel Gaddafi's troops pushed back their weekend advances.
For the Independent it highlights an allied fear that unless the rebels get outside arms, they may be unable to overthrow the Gaddafi regime.
Cloned campaign
The Daily Mail says the European Commission and the UK government have "killed off" a campaign to put controls on cloned meat and milk.
It says shoppers will be left in the dark because products from the offspring of cloned animals will not require special labels.
The Daily Mirror leads with a picture depicting the Chancellor George Osborne as TV's Frank Spencer.
It says he was exposed as clueless after revealing he did not know how much tax he was getting on a litre of fuel.
Airport ambience
The Times says Heathrow airport is in 99th place, below Calcutta, Moscow and Johannesburg, in an international table of passengers' experiences.
The confidential survey compared the world's 146 principal airports.
It found that passengers at Heathrow complained about long security queues and poor "ambience".
Meanwhile, the Daily Star reports on "shock scenes" of fights between characters the viewers will not see in the TV series "The Only Way is Essex".
Hitler house
Many of the papers have pictures of a suburban semi in Swansea which has caused a sensation on Twitter as it's thought to look like Hitler.
The Daily Telegraph says the slanted roof is said to resemble his fringe, the door lintel the moustache, and the small top windows his piercing eyes.
The Daily Express says a passer-by spotted the bizarre similarity and posted a picture on Twitter.
Another resident tells the Sun: "I hope we're not invaded by busloads of tourists".