Harry trains for Walking With The Wounded trek with Arctic swim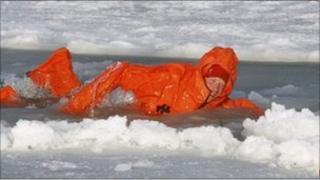 At -23C people can do strange things. Like throwing yourself into the icy Arctic Ocean between shifting floes of sea ice.
It's an odd enough experience for anyone to try, but stranger still for someone missing an arm - or part of a leg.
And it's not every day you see the third in line to the British throne run headlong into the treacherous waters with a smile across his royal face.
But this is survival training, polar style.
It's one of the final tests being thrown at the team of disabled British soldiers setting out this weekend to walk, unassisted, all the way across the ice cap to the North Pole.
Rigorous selection
I've come to Arctic Svalbard to report on Walking With The Wounded, a charity set up 18 months ago to help badly injured British servicemen and women find jobs in civilian life after suffering life-changing injuries on active service, mostly in Afghanistan.
After a lengthy and rigorous selection process four candidates have been chosen to make the 4-week, 200 mile (320km) trek across the frozen wastes to reach the Geographic North Pole. (The Magnetic North Pole is now somewhere in Canada and rumoured to be within walking distance of a sweet shop).
Capt Martin Hewitt from Liverpool has a paralysed arm that hangs in a sling, Capt Guy Disney from Oxford has one leg amputated below the knee, Welshman Sgt Steve Young has a painful broken back and South African-born Londoner Pte Jaco Van Gass is missing half an arm where it was blown off by a rocket-propelled grenade.
Together with their Norwegian polar guide and the charity's founders they will be dragging heavy sledges behind them across buckled ice and snow in temperatures as low as -40C.
In polar jargon I'm told an "unassisted" trek doesn't mean they can't have anyone with them; it just means they can't have any resupplies along the route.
Coming to the Arctic brings its own special challenges for me too.
As a wheelchair user after a Saudi gunman's bullets damaged my spinal nerves seven years ago, it's not the easiest environment to get around.
But I have been delighted to find that I can ride a snowmobile, which is how the Norwegians get around these frozen wastes.
So together with my production team we have bounced and revved our way across snowy ravines, marvelling at the breathtaking winter scenery and keeping a weather eye out for polar bears (none seen so far), to reach the team as they pole their way through the valleys.
To cope with the extreme temperatures and my part-paralysed legs, my producer Mark Georgiou has come up with a cunning foot thermometer with an extension lead that allows me to fend off frostbite.
Our Norwegian guide, the veteran polar explorer Stian Aker, is taking an almost paternal interest in my welfare.
Relatively unprepared
So that's quite enough about me, what about Prince Harry?
This week the team have been joined by the prince, their patron, who flew up to the Norwegian archipelago of Svalbard, flanked by his usual Police Close Protection Team.
While the rest of the team have been training hard for the trek, he's spent much of the last year ensconced with the Army Air Corps, learning to fly Apache helicopters.
In reality, he has been relatively unprepared for the rigours of the polar icecap; so this week is his last chance to get his survival skills up to speed.
The prince will join the men on the first five days of what is expected to be a four-week mission.
There had been talk of him joining the team for the final push to the pole, so we asked him: "Why the change?"
It was a combination, he replied, of his military commitments, the impending Royal Wedding - he is best man to his brother Prince William - and a desire not to turn up right at the end of the trek and, in his words, "grab all the glory".
And so it was that early this morning we trooped out to a frozen inlet to watch the Prince and the team don bright orange "immersion suits" and throw themselves one by one into a "lead", the technical name for a gap in the sea ice of the sort they will have to cross with their floating sledges throughout April.
One-legged cavalry officer Guy Disney was first in, bobbing around like a Michelin man in his suit then doing an impressive back-stroke. Then came paratrooper Martin Hewitt who charged at the water and managed to haul himself back up onto the ice with just one arm.
As others followed suit Prince Harry gave a final bear hug embrace to the expedition's co-founder, Ed Parker, before pushing him in then taking a running jump into the murky sub zero water himself.
But this being a media event as much as a training session, there was an element of showbiz glamour in the air.
Ben Fogle, the polar adventurer, author and TV presenter, is up here reporting on it for a US network. With a touch of the eccentric Englishman, he turned down the comfort of an immersion suit and jumped in in his day clothes, stripping off afterwards in the Arctic air.
"I must admit", he told me afterwards, "it hurt like hell, especially my fingers".
But this weekend, when the team are due to lift off from Svalbard and set down on the edge of the icecap to begin their trek, today's fun and games will probably seem a world away.
As the reality of the enormous challenge facing them sets in the time for training will be over and it will be down to hard-learned skills and survival against the elements in one of the toughest environments on the planet.