Libyan officials urged by UK to follow Koussa and quit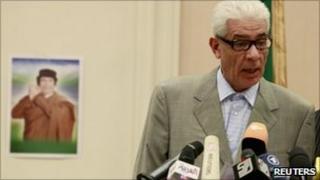 UK officials have encouraged other senior Libyan officials to abandon Col Gaddafi after his foreign minister fled to Britain and resigned.
Moussa Koussa arrived in London on Wednesday saying he was no longer willing to represent the Libyan leader's regime internationally.
The Foreign Office said it wanted "those around Gaddafi to abandon him and embrace a better future for Libya".
The Libyan government said Mr Koussa was travelling on a diplomatic mission.
The development came on the same day as the UK took steps to expel five Libyan diplomats.
Foreign Secretary William Hague told MPs the five, who include the military attache, "could pose a threat" to UK security.
BBC political editor Nick Robinson said Mr Koussa had flown into Farnborough airport, in Hampshire, on Wednesday afternoon from Tunisia and had been debriefed, most likely by intelligence officials.
He said the fact he had flown into Farnborough was significant as he had clearly not been on a commercial flight. He is believed to have arrived on a British military plane.
"What is not clear is whether he has arrived simply to escape, or to play a wider role in any opposition to Col Gaddafi," our political editor said.
"Clearly his defection, if that's what it becomes, will be used to urge others to follow suit and claim the regime is losing support."
Mr Koussa has not met Prime Minister David Cameron or Foreign Secretary William Hague yet, but he is known to have been a point of contact for Mr Hague in recent weeks.
In a statement the Foreign Office said: "We can confirm that Moussa Koussa arrived at Farnborough Airport on 30 March from Tunisia.
"He travelled here under his own free will. He has told us he is resigning his post.
"Koussa is one of the most senior figures in Gaddafi's government and his role was to represent the regime internationally - something that he is no longer willing to do.
"We encourage those around Gaddafi to abandon him and embrace a better future for Libya that allows political transition and real reform that meets the aspirations of the Libyan people."
Chief of the Defence Staff Gen Sir David Richards said Mr Koussa's arrival in the UK was "positive".
Arriving at a National Security Council meeting on Thursday morning, he told the BBC: "It's all about psychology. It can't be helpful to Gaddafi."
Providing arms
BBC world affairs editor John Simpson said Mr Koussa's resignation revealed a "nervousness" among senior figures but would be dismissed by the regime as an "individual decision".
He said Mr Koussa had been, for a time, the only person in Col Gaddafi's inner circle unrelated to him by blood or marriage, but he had been "out of the loop" for about a year after a row with one of Col Gaddafi's sons.
Noman Benotman, a friend of Mr Koussa and a senior analyst at the UK-based Quilliam think tank, told Reuters news agency: "He wasn't happy at all. He doesn't support the government attacks on civilians.
"He's seeking refuge in Britain and hopes he will be treated well."
Mr Koussa's apparent defection was hailed as "great day" for relatives of those killed in the Lockerbie bombing in 1998.
Jim Swire, whose daughter Flora was killed in the attack, said Mr Koussa was at the heart of Col Gaddafi's government and "could tell us everything".
Jack Straw, who was foreign secretary when negotiations with the Gaddafi regime produced an end to its development of weapons of mass destruction in 2003, said Mr Koussa had been in the "driving seat" at that time.
He had played a "fundamentally important role" in persuading Col Gaddafi to give up his nuclear and chemical programme, Mr Straw said.
Oliver Miles, former British ambassador in Tripoli, said Mr Koussa's arrival in Britain was politically significant, as the military situation in Libya was nearing a stand-off.
"The more that can be done politically to undermine those who remain loyal to Gaddafi, the quicker we will have a solution," he said.
Rebels opposed to Col Gaddafi's rule and fighting Libyan government forces are continuing to lose ground and are retreating from their former strongholds along the eastern coast of Libya.
Mr Cameron has said the UK is not ruling out providing arms to rebels in "certain circumstances" but no decision had been taken.
The UK has been involved in more than 160 aerial missions, as well as missile strikes, over Libya since coalition operations began on 19 March following a UN resolution.
The coalition military action is aimed at enforcing a no-fly zone over Libya and protecting civilians from attacks by forces loyal to Col Gaddafi. It has denied air strikes are meant to provide cover for a rebel advance.