Ian Tomlinson 'violently shoved' before G20 demo death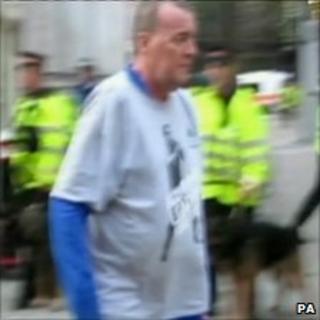 Ian Tomlinson was not confrontational before he was "violently shoved" to the ground by a police officer at London's G20 demo, a witness who filmed the incident has told an ongoing inquest.
Christopher La Jaunie said the 47-year-old was not a protester and turned away after failing to get past a cordon.
The US businessman also said he saw Mr Tomlinson's head hit the ground.
The claim the newspaper seller's death was due to natural causes was challenged after his film emerged.
Mr La Jaunie's video from 1 April 2009 shows Mr Tomlinson was turned away from a line of officers in Royal Exchange Passage and struck with a baton before being shoved.
Mr La Jaunie told the jury: "He had his hands in his pockets. It was clear now he was not going to be able to get through so he turned his back to walk away.
"Once his back was turned... a push is a very polite term, he was rather violently shoved. His hands were in his pockets when he flew forward. He was unable to break his fall."
He added: "His head goes out of frame but I saw it, he hit the ground, his head hit the ground."
Mr Tomlinson got up but collapsed to the ground in nearby Cornhill, and died a short time later.
Mr La Jaunie said his colleague told him about a fatality during the protests and, figuring Mr Tomlinson was the victim, he contacted the media when there was no mention of the man being pushed.
"The story that had come out was that he just died of natural causes, completely unrelated to this," he said.
"In my opinion that footage was contradicting the story."
Questioned by the lawyer for Pc Simon Harwood, the officer who pushed Mr Tomlinson, Mr La Jaunie agreed he had made a statement to police in which he said the newspaper seller appeared "intoxicated".
Patrick Gibbs QC then asked him about a comment in the statement in which he said Mr Tomlinson may have been seen as "some kind of threat".
Mr La Jaunie told the inquest he thought Pc Harwood had used "excessive force".
The inquest heard his statement mentioned seeing other people pushed or hit with batons when they tried to get through police shields and said that "didn't seem unreasonable" action by officers.
But Mr La Jaunie told the jury: "There is a difference between lunging forward towards the police line and moving away from the police line which Mr Tomlinson was doing."
'Hostile crowd'
The inquest, which is sitting at the International Dispute Resolution Centre in Fleet Street, is examining the actions of police, the pathologist and independent investigators.
Pc Harwood is to face a charge of gross misconduct at a disciplinary hearing that could see him dismissed by Scotland Yard. But this will not take place until the inquest has ended.
Pc Andrew Hayes also gave evidence to the inquest and described how Pc Harwood was involved in an earlier incident in which he was surrounded by a large "hostile crowd".
Both men were acting as drivers with the Territorial Support Group and would normally be expected to stay with their vehicles.
Pc Hayes said his colleague had tried to make an arrest when he saw a man crouched at the back of one of the vans but the suspect wriggled free after a crowd appeared to turn on Pc Harwood.
Police video footage of the event was shown to the jury.
In answer to a question from Matthew Ryder QC , representing the Tomlinson family, Pc Hayes said Pc Harwood had not spoken to him about using a baton strike against a middle-aged man or pushing a man to the floor.
Another police officer told of the moment when Pc Harwood saw the footage of the push on Mr Tomlinson on TV a week after the incident.
Pc Alex Jackaman said: "Pc Harwood was sitting next to me and his reaction was 'My God, that's me'.
"I thought he was joking... He said 'No, that's me' in a serious voice. The way he said it you could tell he was telling the truth. It was him."
The inquest continues.