Ian Tomlinson 'not aggressive' before G20 death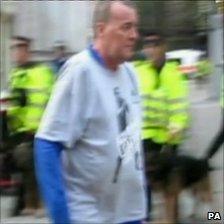 Ian Tomlinson was not posing a threat to officers at London's G20 protests in 2009, a policewoman has told the inquest into his death.
Pc Kerry Smith said she could tell the newspaper seller was not a demonstrator and he was not behaving aggressively.
But she said Mr Tomlinson had been told repeatedly he could not come past the police cordon.
A police officer was filmed pushing the 47-year-old to the ground shortly before he collapsed.
Pc Smith told the inquest in London that Mr Tomlinson "went forward quite hard".
In a statement after the incident, she said she was "shocked" by the force of the push.
On the second anniversary of Mr Tomlinson's death, Pc Smith told the inquest what happened after he had been pushed.
"He sat up and looked towards us and he said 'I just wanted to go home'," she said.
"I said 'It's obvious mate, you can't come through'."
Mr Tomlinson came up against a line of police officers during the G20 protests in the City of London.
Amateur video footage showed that he was pushed in the back by Pc Simon Harwood and landed heavily on the ground.
Mr Tomlinson appeared to gesture to police after getting up and then he was seen walking away unsteadily before collapsing.
Pc Smith said the crowd in the Cornhill area had become more volatile in the early evening.
She said Mr Tomlinson approached her police line as they tried to clear the Royal Exchange passage, saying he wanted to get through.
She said: "To me he wasn't aggressive or swearing. He didn't seem rude as such."
She said she and other officers had told him to get back and tried to send him in another direction but he was not moving.
"After a bit of a pause he then did turn around," she said. "He was pushed then by a police officer on his left shoulder or left upper arm."
Under questioning from Matthew Ryder QC, for the Tomlinson family, she said: "I didn't see him shouting or chanting, he didn't appear to be with anybody else, so I didn't think he was a demonstrator."
Mr Ryder also asked: "You didn't think it was necessary to use any force on Mr Tomlinson, as far as you were concerned?"
She replied: "From the dealings I had, no, I didn't."
Samantha Leek, for the Metropolitan Police, also asked if she believed Mr Tomlinson posed a threat to officers.
Pc Smith replied: "I didn't feel so at the time."
In a statement read to the inquest, Robert Fitch, whose office overlooked the scene, said Mr Tomlinson "looked as if he had had a bit to drink because he was walking slowly with his hands in his pocket".
"I saw a police officer step forward and strike Ian on the right knee area two or three times," he said.
"Ian was struck on the leg but he did not seem to respond in any way which was consistent again with my view that Ian was drunk."
The inquest, which is sitting at the International Dispute Resolution Centre in Fleet Street, is examining the actions of police, the pathologist and independent investigators.
Related Internet Links
The BBC is not responsible for the content of external sites.