Newspaper review: Papers reflect on Afghan UN deaths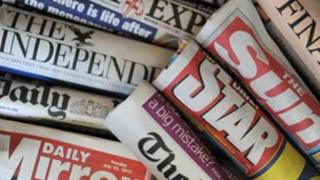 The deaths of foreign UN workers after protesters stormed a compound in the northern Afghan city of Mazar-e Sharif is the main story for the Guardian.
The paper says the protesters were "enraged" by the burning of the Koran by a Christian extremist in the US.
The UN mission in Afghanistan has been "thrown into jeopardy", the paper adds.
The Daily Telegraph reports that at least two people were beheaded in the worst attack on the UN in Afghanistan since the country was invaded in 2001.
Twilight zone
The Independent's cover story is about refugees on the tiny Italian island of Lampedusa in the Mediterranean.
Nearer to Tunisia than Italy, the paper says an estimated 200,000 people have flocked to the normally unspoilt paradise over the past two months.
Not only are they fleeing conflict in Libya and sub-Saharan Africa, many are trafficked Tunisian economic migrants.
"As the world looks to Libya, a refugee crisis unfolds," says the paper of what it calls Europe's twilight zone.
Wedding nerves
Many of the papers carry pictures of the Queen visiting Prince William at his RAF base in Anglesey.
The Daily Mail shows the Queen hanging on to her claret hat "for dear life" in 50mph winds.
Others focus on the admission by the prince that he is feeling nervous in the run up to the royal wedding.
Wobbling Wills is the headline in the Daily Mirror, which quotes William as saying his "knees started tapping quite nervously" at the wedding rehearsal.
Carnival atmosphere
There is eager anticipation in the papers of Saturday's cricket World Cup final between India and Sri Lanka.
The Times reports from Mumbai where it says there is a carnival atmosphere despite a heavy security presence.
A Guardian leader notes that one of the game's greats, India's Sachin Tendulkar or Sri Lanka's Muttiah Muralitharan, will end up on the losing side.
On that basis, the paper suggests, the non-aligned - including the English - ought perhaps to hope for a tie.