Ian Tomlinson inquest: Wife walks out as Pc takes stand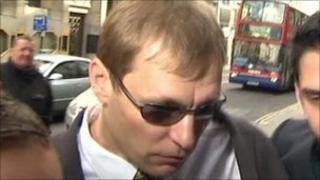 The wife of Ian Tomlinson, the newspaper seller who died at the G20 protests in London, left his inquest as the Pc who pushed him gave evidence.
Julia Tomlinson and two of her sons walked out when Pc Simon Harwood said he was there to "help the family".
Mr Tomlinson, 47, collapsed and died in 2009 moments after he had been pushed.
The inquest, at the International Dispute Resolution Centre, in London, is examining the actions of the police, the pathologist and investigators.
After Judge Peter Thornton QC warned Pc Harwood he was not obliged to answer any questions "tending to incriminate you", the Pc responded: "I'm very aware of that. I'm here as a witness to help with the inquest and also to give some sort of answers to help the family.
"So I'm here to answer questions just to help."
At this, members of Mr Tomlinson's family walked out of the hearing room.
Video footage
The inquest heard Pc Harwood rejoined the Metropolitan Police in November 2004, going straight into the Territorial Support Group, based in Catford.
He was asked about his understanding of how officers were allowed to use force when policing public order situations.
He said: "Use of the reasonable force always has to be justifiable by the individual, nobody else."
The inquest has seen video footage of Pc Harwood striking Mr Tomlinson, a father of nine, with a baton before pushing him to the floor.
Pc Harwood told the jury that officers received training in public order policing about once every five weeks.
He said judging when to use a baton or to push depended on the situation the officer faced on the ground.
The officer said he had attended a large number of demonstrations during his time in the TSG and on the day of the G20 protests had been assigned as a carrier driver.
Asked if he was disappointed to be given this role, he said: "No, never disappointed. We work as a team."
Earlier the inquest heard from Insp Timothy Williams, who told how Pc Harwood was with him in the team room at Catford when he identified himself in video footage of the incident.
"I remember saying to him had he seen the footage of the incident and he said 'no' because he started work so early and then at that point the footage came on to the television," Insp Williams said.
"When it came on Pc Harwood obviously looked at the footage and he said to me: 'I think that's me'.
"And I looked at him and I said, 'No, no it's not'. And he said to me: 'I'm not chomping, I think that's me'."
The inquest heard "chomping" is a term used among Territorial Support Group officers which means "pulling your leg".
The hearing was adjourned until Tuesday.