'I didn't want to think of him as a monster'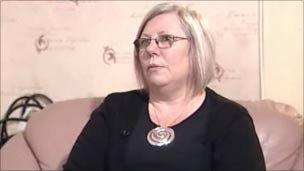 "Meeting the man who was responsible for my husband's death was something I realised I wanted to do very early on."
On 6 October 2006, Kathleen Key's world was turned upside down.
After setting off home from work as normal, her husband - who she had been married to for 28 years - was killed in a road accident.
The driver of the car that collided with Darryl - who was on a motorbike - was later found guilty of dangerous driving while over the legal alcohol limit.
For foster carer Kathleen, now 51, Darryl's death was devastating for both her and her four children.
But she said "from very early on, there was something there" that made her want her to meet the offender.
"My counsellor asked if there was anything I felt would help. I said: 'I need to see the guy who did this.'"
She said the police had given her a letter of apology - written by the offender - but she refused to take it.
"I've worked with young offenders through the years, so I know one of the things solicitors say is to write an apology.
"I thought it was something he had probably been told to do, so I needed to see him to actually know he was sorry, know he was sincere."
But she said her main motivation was not an apology - "which at the end of the day wasn't going to change the situation" - but a desire to understand "the reasons why he had been drinking, and what had brought him to the point in his life where he did such a selfish act".
Kathleen was convinced getting answers would help her move on.
She said not all of her family understood, but she also "didn't want to live with a shadow".
"I knew at some stage he would be out of prison, he wasn't from too far away, and I didn't want to walk around thinking 'is that him?' every time I went out.
"I didn't want to think of him as a monster for the rest of my life. And my youngest child was three at the time, I wanted to be able to give her answers - to be honest and open with her."
After about a year of being in touch with the mediation service, Kathleen was allowed to meet her offender in Stanford Hill open prison.
She said she had "no fear, no anxiety" on the day she came face to face with the offender.
"Actually, the friend I'd chosen for support seemed quite uneasy about how calm I was. It was probably the calmest I'd been since the day Darryl died.
"Although I think my first words to him were: 'If you think I'm here to forgive you, you'll rot in hell first!"
Kathleen said she went on to tell him her husband was an "important family man that was terribly missed - that he was a human being, not a faceless person".
"I wanted him to know that we were living with a hole in our lives, that he'd missed our youngest child's first day of school, his eldest son getting married - that all those little things he should have been there for, like Father's Day, he wasn't.
"I think he realised what the effect had had on us as a family and made him face up to what he had done."
And she said hearing that the offender had been drinking because his wife had recently died helped her to - to a degree - understand.
"He was quite emotional, and very quiet. He said he'd never drive again. I said, 'What does that solve? It's always going to be your family running around for you.
"At the end of the day, no matter what's happened, he's got to live with that on his conscience for the rest of his life. There's no point sitting and wallowing in self pity, that would have made my husband's death totally in vain."
Kathleen said she thinks the meeting helped both her and the offender.
"I found the process empowering, I was able put things into context, get answers and take back some control.
"And apparently he'd never shed any tears since his wife had died - but after I left he was able to deal with some of that pent up grief."
She thinks all crime victims should be offered the option of restorative justice.
But although she said she does not harbour any ill feeling or resentment towards the offender, she in unsure whether she will ever be able to truly forgive him.
"I was able to hug him so there must have been some forgiveness somewhere for me to be able to do that.
"I guess I can forgive what he's done to me. But what he's taken away from my children is much harder to deal with."