Royal wedding: Why so few street parties?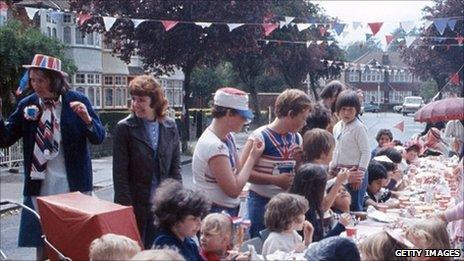 With the royal wedding less than a month away, the allegedly low number of applications for street parties has made the headlines all over the country. Is there less of an interest than on previous occasions? And if so, is this a reflection on people's enthusiasm for the Royal Family?
When it comes to scenes of national life, the street party is about as British as it gets, conjuring up images of bunting, trestle tables covered with sandwiches and cakes, and children playing in the street.
Having started post-World War I as "peace teas" to celebrate the signing of the Versailles Treaty, the tradition has continued for all national days of celebration, including royal weddings and jubilees.
Today, street parties have become an annual summer fixture in some areas - a deliberate response to the 21st Century's fractured communities. As localism has caught on socially and politically, people are increasingly aware of not knowing their neighbours. The street party, it seems, can be the answer. Last year there were 150 in Bristol.
Because hosting a street party means closing a road to traffic, which requires council permission, it is easy to monitor how many are being held.
This royal wedding though appears to be bucking the current trend for street parties. Despite explicit government support for the events, including the Camerons hosting their own party in Downing Street, the latest figures from the Local Government Association reveal there have been only 4,000 applications for street parties in England and Wales.
This may sound a lot but it is far fewer than the two million people that the Daily Mail is predicting will attend one.
With the wedding expected to attract a record global television audience of two billion, what is it that is turning people away from the traditional street party?
Various theories have been doing the rounds, ranging from blaming the bureaucratic process involved in applying for a road closure, to the wedding's timing being so early in the year, the relatively brief engagement and the royal factor itself.
Decreeing a national holiday on the day of the wedding may have been intended as an opportunity for the British public to get out and celebrate the newly married couple's happy day, but a significant number are taking advantage of it to leave the country altogether.
Sandwiched between the four-day Easter weekend and the first May bank holiday, this extra day off transforms three days of leave into an 11-day break, which has proved too tempting for many.
Travel company Thomas Cook has laid on an extra 100,000 holidays to cope with the demand.
Another possible explanation for the lack of interest has been the timing of the big day. As Prince William and Kate Middleton announced their engagement in deepest, darkest November, much of the country was experiencing heavy snow and ice - hardly the most inspiring time to start planning a street party.
With the wedding itself taking place on 29 April, it is one of the earliest royal events ever to be celebrated in the calendar year. Prince Charles and Lady Diana Spencer's wedding day is remembered fondly by many - a fact that probably has something to do with the fact it took place on a warm day in late July.
Chris Gittins of Streets Alive says the choice of wedding date itself is a major stumbling block for many.
"It's a pity they didn't pick a summer date, then there could have been easily double the number," he says. "I don't think there any evidence of a north-south divide as such. It's just that you're not really in party mode if you've got snow and it feels like winter."
Of course, with the longer, lighter days of spring, many may now be considering a party at short notice. Some councils have accounted for this by delaying the deadline for street party applications.
Another theory is that it is not simply the timing of the day but the length of time people have had to plan for it. Leisa Cohen who, in 2002, organised the world's longest street party in Combe Martin, Devon, for the Queen's Golden Jubilee, reckons William and Kate's engagement, of less than six months, simply has not been long enough.
"It was purely the time that would have been involved in planning - the Golden Jubilee took a year," she says.
Although she will be celebrating, it will be on a much smaller scale as her street prepares instead for its next big royal date, on 4 June 2012.
"As much as we would have liked to do something we'll be concentrating on the Diamond Jubilee."
The process for applying to host an event has also been blamed for the fall in the number being organised, despite the government's best efforts to relax the red tape for communities in England.
Having become an increasingly complex bureaucratic process, the coalition government last year attempted to improve the situation by reducing the number of forms that had to completed for organisers from several to just one. And in February, Transport Secretary Philip Hammond told councils that he was scrapping all government guidance on road closures and urged them to reduce "unnecessary bureaucracy".
Most councils have taken this on board and many parties are being held without the cost, which can run into the hundreds of pounds, or without complicated regulation.
However, in some areas, such as Birmingham - which has had one of the lowest number of applications - the council expects communities to spend £400 to hire traffic management firms on 29 April and to provide insurance, costing about £50, for their event.
In Bolton, which had 427 parties for the Queen's Silver Jubilee and more than 100 for Charles and Diana's wedding, the council had received only four applications at the beginning of April for this year's big event. This is despite the authority being one of those to scrap charges for road closures.
Gaynor Ramsden, who promotes local businesses in the town, remembers a real community spirit in 1981 but reckons that any street celebrations for William and Kate will be "low key and ad hoc".
Considering the government's relaxation of the rules, the official numbers still appear low. Although the figures are hard to come by, the Daily Telegraph recently said there were 10 million street party-goers in 1981 for Charles and Diana's wedding.
In 2002, ahead of the Queen's Golden Jubilee, a Mori poll revealed that three out of four people in the UK would be celebrating, either at a party or by watching the events on TV with 82% happy with the Queen's role as monarch.
However any suggestion that a waning interest in the monarchy is to blame for the low number of street parties is firmly rebuffed by royal historian Hugo Vickers. He reckons the idea that they happened on a large scale for Charles and Diana is something that has been "media-led".
"I don't think they particularly happened in 1981 or for weddings generally, not as much as for the jubilees", Mr Vickers says.
Chris Gittins thinks the royal wedding element of the street parties is important but should not be overestimated.
"As much as it is a royal thing, it's as much a British thing. It's an excuse to have a street party. It's not celebrating the wedding, it's because of the wedding. Many who will be at parties would feel uncomfortable about being labelled royalist."
Related Internet Links
The BBC is not responsible for the content of external sites.