Prince Harry's North Pole trek getting under way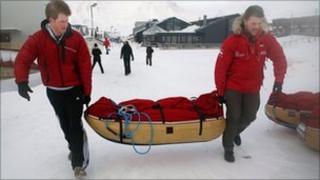 A trek across the Arctic by Prince Harry and four disabled servicemen is getting under way.
The men arrived at the Borneo Ice Airfield about 200 miles (320km) from the North Pole in the early hours of Tuesday for the charity walk's start.
The prince will stay with the four-week mission, aimed at raising £2m to help injured troops, until Thursday.
Team member Edward Parker said they had only got four hours sleep in their tents but were "raring to go".
In an audio message on the Walking With The Wounded website, Mr Parker, one of the charity's founders who is also taking part, said their first view of the frozen Polar Ocean ahead of landing was "one of the most remarkable sights any of us have ever seen".
He said: "The sheer beauty of the place that we ended up being put down in is so difficult to describe white everywhere but thousands of different colours, the sun was in the sky and it was incredibly uplifting for all of us."
He added that temperatures were "remarkably warm" for the Arctic at -20C, with the wind chill factor taking it down to -30C.
"We were fine from a temperature point of view," he said.
The team were due to depart from the Norwegian island of Spitsbergen, where they had been preparing, on Sunday. But gales at the landing site delayed their departure.
They finally left on a flight at 2330 local time on Monday and were then taken by helicopter to the trek's start point.
As a result of the delays, the expedition has been slightly shortened but Harry said the challenge was still "remarkable".
The prince said: "The miles may have to be minimised only by a little bit, but it's not going to make a difference to what these guys are doing.
"It's truly inspirational and truly remarkable, so let's keep the support going."
Harry, who is patron of the Walking With The Wounded charity, will return home to military commitments.
The four servicemen, who were all injured in combat in Afghanistan, hope to enter the record books as the first disabled team to walk unassisted to the North Pole.
The men are: Capt Martin Hewitt, 30, whose right arm is paralysed after being shot; Capt Guy Disney, 29, whose right leg was amputated below the knee after he was hit by a rocket-propelled grenade (RPG); Sgt Stephen Young, 28, who suffered a broken back in a roadside bombing; Pte Jaco Van Gass, 24, who had his left arm amputated and suffered significant tissue loss to his left leg after being hit by an RPG.
As well as Mr Parker, they are also being joined by another of the charity's founders, Simon Dalglish, and polar guide Inge Solheim.