Councils 'use bailiffs' to collect unpaid parking fines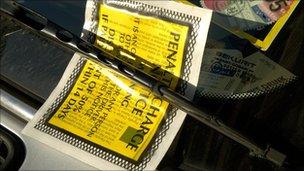 Bailiffs are used to collect unpaid council taxes and parking fines in more than two million cases a year, a civil liberties campaign group has said.
Survey figures released to Big Brother Watch suggest nearly 5,500 cases a day are sent to debt agencies by councils in England, Scotland and Wales.
Campaigners fear bailiffs harass those with debts and charge excessive fees.
But the Local Government Association says councils have a duty to people who pay taxes to pursue the few who do not.
The government said it would "rein in the aggressive use of bailiffs".
Local government and housing minister Grant Shapps said ministers would "defend people's rights and liberties against home invasion".
"In addition, we will not be introducing the last government's plans to allow bailiffs to force entry into homes to collect civil debts," he said.
It comes after Daniel Hamilton, director of Big Brother Watch, urged the coalition government to act immediately "to end the culture of bully-boy debt collection which has taken hold in town halls across the country".
"Sending in bailiffs to recover debts should always be the absolute last resort," he said.
It emerged that between 2007/08 and 2009/10, the 320 local authorities who responded to the survey passed 4,527,917 cases to third-party debt recovery agencies for the non-payment of council tax.
And some 1,411,086 cases were passed on for the non-payment of fines for parking infringements.
Two Scottish councils - City of Edinburgh and Glasgow City Council - topped the list of those that used bailiffs most frequently.
Both called in debt recovery agents more than 280,000 times between 2007/08 and 2009/10 - more than 250 cases every day.
David Sparks, vice-chairman of the Local Government Association, said about £530m of council tax went unpaid each year, adding that councils "have a duty to the vast majority of residents who pay their taxes to pursue the small number of individuals who don't".
Stressing that calling on bailiffs is "very much a last resort", he said: "There is nothing trivial about collecting money which funds the vital front line services residents need and want."
Mr Sparks said people struggling to pay bills are given as much leeway as possible and councils make contact with them a number of times before starting legal proceedings.
The Civil Enforcement Association, which represents bailiff companies, said it had been campaigning alongside the Citizens Advice Bureau to persuade the government to implement a "reformed, transparent, capped" fee structure.
Director general Steve Everson added: "Unless Big Brother Watch is suggesting that nobody should need to pay tax or fines, there needs to be a system of enforcement.
"Without one, how can that be fair on those who pay for and depend upon public services, and how could society function?"
Related Internet Links
The BBC is not responsible for the content of external sites.