Phone-hacking inquiry: Prescott calls for BSkyB delay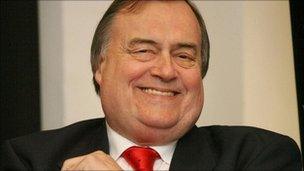 News Corp's proposed takeover of BSkyB should be delayed until the police conclude their phone-hacking inquiry, Lord Prescott has said.
He told the House of Lords it would be "totally unacceptable" for a company "actively involved at all levels in criminal acts" to be given control.
The peer says he and others were victims of phone-hacking by the News of the World, which is owned by News Corp.
News Corp declined to comment on Lord Prescott's remarks.
The company has been given the go-ahead by the culture secretary, Jeremy Hunt, to buy the shares in BSkyB it does not already own.
On Tuesday police investigating allegations of phone hacking bailed two News of the World (NoW) journalists after a day of questioning.
Neville Thurlbeck, the tabloid's chief reporter, and former NoW head of news, Ian Edmondson were arrested on suspicion of conspiring to intercept mobile phone messages. They had voluntarily attended two London police stations.
In 2007, the first police investigation into phone hacking led to the convictions and imprisonment of then NoW royal editor Clive Goodman and private investigator Glenn Mulcaire, who had been employed by the paper.
Lord Prescott told the Lords: "Are you aware of the decision yesterday following the imprisonments of two employees of [the] Murdoch press that the new inquiry has now arrested two senior employees of the Murdoch press?
"Is the government aware, in giving this decision on BSkyB, that it would be totally unacceptable for a company like this that is actively involved at all levels in criminal acts to be given control of BSkyB?"
He also said News International chief executive Rebekah Brooks had admitted a "criminal act" when she told a parliamentary committee in 2003, when editor of the Sun, that police were paid for information.
Lord Wallace of Saltaire told Lord Prescott: "You raised the issue of payments to the police, which clearly would have been illegal, and I know some of these have now been admitted.
"It's necessary, of course, for the police to have a close relationship to the media because the media can help in solving crime, but payments for information received are clearly illegal."
Conservative former Cabinet minister, Lord Fowler, complained there had been a "total abuse of power involving some parts of the press".
He told peers that once criminal proceedings were completed, there should be an independent inquiry into what had happened and how scandals could be prevented.
Mr Hunt said last month he was minded to back News Corp's proposals to buy the remaining 61% in BSkyB it does not already own.
It would also entail spinning off Sky News as part of any deal.
Related Internet Links
The BBC is not responsible for the content of external sites.