G20 inquest: PC says Tomlinson 'invited confrontation'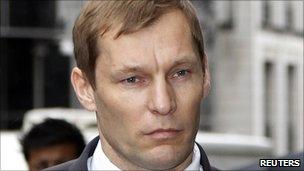 The police officer who pushed Ian Tomlinson minutes before he died at the G20 protests in London said he was "almost inviting a confrontation".
Pc Simon Harwood stood by his statement in which he said Mr Tomlinson's posture was "almost defiant".
The jury at the inquest into his death was again shown footage of Pc Harwood shoving the 47-year-old as he walked away from a police line.
The Tomlinsons' lawyer accused the officer of lying and talking "rubbish".
Giving evidence for the third day, Pc Harwood said he had not expected the newspaper seller to fall over and he had not helped him while he lay on the ground because it was not part of his training.
When asked later by his lawyer if he had intended to hurt Mr Tomlinson, he appeared to wipe tears from his eyes as he replied "not at all, no."
Pc Harwood, part of the Metropolitan Police's specialist Territorial Support Group (TSG), was caught on film pushing the newspaper seller to the ground in Cornhill, central London, on 1 April 2009. Mr Tomlinson got back to his feet but collapsed and died minutes later.
Matthew Ryder QC, for the Tomlinson family, said Pc Harwood was denying events clearly visible on the video.
He asked Pc Harwood: "Do you agree he had his back to you? We're all here in this room looking at the video."
Pc Harwood replied: "No."
Mr Ryder said: "You're lying Pc Harwood, I suggest, and you know it."
To that, Pc Harwood said: "No. I'm just trying to help."
The officer maintained that "from his angle" it had appeared Mr Tomlinson had not been moving away, which Mr Ryder said was "rubbish" and "absurd".
Members of Mr Tomlinson's family walked out in tears after hearing the policeman's denials.
Pc Harwood has already apologised to the Tomlinson family for "any way" he may be responsible for the death.
He has admitted Mr Tomlinson was no threat to him or his colleagues before he hit him with a baton and pushed him.
Mr Tomlinson, who was not a demonstrator and had been selling newspapers in nearby Fish Street Hill, was on his way home when he encountered the protests.
On Wednesday, the officer was challenged over claims in his statement from 2009 that the father-of-nine had been inviting the confrontation and his push had been just a "gesture".
"He (Mr Tomlinson) just looked as if he was going to stay where he was whatever and was almost inviting physical confrontation in terms of being moved on," the statement said.
Mr Ryder asked: "Is that true, Pc Harwood?"
The officer replied: "Yes".
In another part of his statement, he said: "His (Mr Tomlinson) posture was almost defiant. His hands remained in his pockets, he did not move away, and he looked at the police officers approaching him as if he was simply intent on remaining where he was."
Pc Harwood, who is suspended from the force on full pay, has been told he will not face any criminal prosecutions over what happened - but he is still facing a Met Police misconduct hearing, due to take place after the inquest.
The inquest, which is sitting at the International Dispute Resolution Centre in Fleet Street, is examining the actions of police, the pathologist and independent investigators.
Related Internet Links
The BBC is not responsible for the content of external sites.