Wikileaks' Julian Assange extradition appeal date set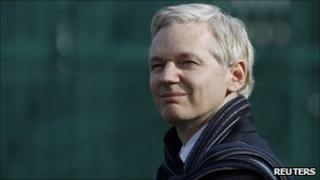 Wikileaks founder Julian Assange's appeal against extradition from the UK to Sweden on sexual assault allegations is to begin on 12 July.
A two-day hearing has been listed at the High Court.
After February's ruling at Belmarsh Magistrates' Court, Mr Assange said the extradition was due to a "European Arrest Warrant system run amok".
Lawyers for the 39-year-old, who denies the allegations, argued the case breached his human rights.
He has been granted bail and is living at the home of journalist Vaughan Smith at Ellingham Hall, a 10-bedroom property set on 600 acres of land near Bungay on the Norfolk-Suffolk border.
'Adverse publicity'
Mr Assange has suggested the case was politically motivated because of Wikileaks' publication of sensitive material - including leaked US diplomatic cables - from governments and high-profile organisations that has made headlines worldwide.
He said he feared he could be handed over to the US authorities.
But in the ruling ordering the extradition, District Judge Howard Riddle said no evidence was provided to support that claim.
The judge also said he did not accept defence claims that that Mr Assange would not get a fair trial in Sweden or that the allegations against Mr Assange were not extraditable offences.
He did, however, find that there had been "considerable adverse publicity in Sweden for Mr Assange, in the popular press, the television and in parliament".
Mr Assange's legal team has indicated this issue would be central to their appeal against the decision.