Newspaper review: NHS change scrutinised by papers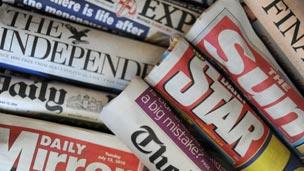 The coalition government's attempts to bring in widescale changes to the NHS in England is put to the test in several newspapers.
And the Guardian says a "listening exercise" in which medical staff are to be asked to contribute to a review of the plans has been thrown into doubt.
It says a confidential memo suggests the plans are not for changing.
Portugal's request for assistance from the European Union is widely scrutinised in Thursday's papers.
The Financial Times says the country's borrowing costs have soared to unsustainable levels after it rejected austerity measures.
It predicts many Britons struggling to cope with spending cuts and tax rises are likely to be angered.
A wide-ranging independent inquiry into the conduct of newspapers, following the phone hacking controversy, is a possibility, the Independent reports..
The paper says the government has raised the prospect of such an inquiry for the first time.
And the Times draws attention to sunny weather across much of the UK.
It said that on Wednesday "Britain basked in the hottest day of the year", adding that St James's Park, in London, was the hottest place in the country.
Both picture the Manchester United striker celebrating scoring the only goal in his club's Champions League tie against Chelsea.
But they also report that Rooney has been dropped as the face of Coca Cola, which has ended a £600,000-a-year sponsorship deal with the player.
The Mirror says, "It's "Hero... To Coke Zero", while the Sun goes for "Coke Can Rooney".
Related Internet Links
The BBC is not responsible for the content of external sites.