Prince Harry stranded in Arctic after runway cracks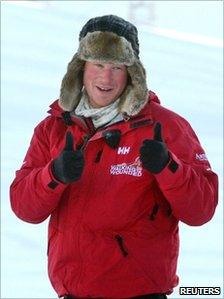 Prince Harry who has been trekking across the Arctic with four disabled servicemen, has been stranded after cracks formed in an ice runway.
All flights out of Borneo Ice Airfield - about 200 miles (320km) from the North Pole - have been cancelled while the runway is rebuilt.
The prince was due to fly home on Thursday, but Clarence House said it could be 48 hours before he can leave.
The team, walking to the North Pole, is aiming to raise £2m for charity.
The four servicemen, who were all injured in combat in Afghanistan, hope to enter the record books as the first disabled team to walk unassisted to the North Pole and raise money for Walking With The Wounded which helps injured troops.
Clarence House said Harry would spend another day trekking with the team before returning to the airfield on Thursday night to await the first available flight.
"We guide that the delay will be less than 48 hours as it stands, but given the unpredictable nature of conditions in the Arctic, the situation may change."
Expedition spokesman Alex Rayner said airfield crews were working round the clock to rebuild the runway.
"It is a feat of engineering to build a runway on what is effectively a floating piece of ice on the Arctic Ocean.
"We will continue to monitor the situation and hope to have Prince Harry back on dry land within the next 48 hours."
The four-week mission got off to a late start after gales delayed the team's flight to the starting point, meaning the expedition had to be slightly shortened.
However, four days into the trek the team said they were ahead of schedule after pulling their sledges 12 miles across the Arctic on Wednesday.
Harry, who is patron of Walking With The Wounded, will return home to military commitments, ahead of his brother's wedding at the end of the month.
Related Internet Links
The BBC is not responsible for the content of external sites.