G20 inquest: Dying Ian Tomlinson said 'They got me'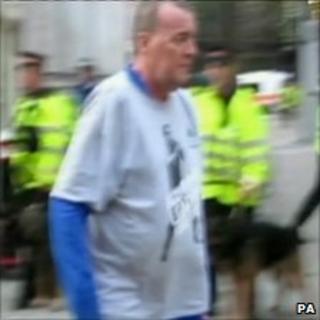 Ian Tomlinson whispered: "They got me," before collapsing and dying at London's G20 protests, an inquest has heard.
Charity boss Kamran Saleem told how the newspaper seller had staggered away and collapsed "like a falling tree" after being shoved by a police officer.
Mr Saleem told jurors he had been less than three yards away as people had rushed to Mr Tomlinson's aid.
Earlier, Pc Simon Harwood, who pushed Ian Tomlinson, said his posture had been "almost defiant".
Strong language
Giving evidence on Thursday, Mr Saleem recalled Mr Tomlinson's final words, which included strong language.
"I think when somebody went to help him, he said something on the lines of, 'They got me, the fuckers got me.'"
Mr Tomlinson had been asked if he had wanted an ambulance, but had said, 'No, they got me,' Mr Saleem said.
He added that Mr Tomlinson had been drifting in and out of consciousness.
The jury was shown footage earlier this week of Pc Harwood shoving Mr Tomlinson as the 47-year-old walked away from a police line in Cornhill, central London, on 1 April 2009.
Mr Tomlinson got back to his feet but collapsed and died minutes later.
Pc Harwood told the jury Mr Tomlinson was "almost inviting a confrontation", which the Tomlinson family's lawyer dismissed as "rubbish".
The inquest at the International Dispute Resolution Centre in London's Fleet Street is expected to continue for another four weeks.