Ministry of Defence 'reprieve' on £1bn funding gap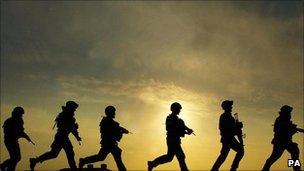 The Ministry of Defence (MoD) has won a reprieve on its £1bn funding gap this year, the BBC understands.
The Treasury and MoD have agreed on measures to be taken this year in a deal apparently brokered by Downing Street, the BBC's Caroline Wyatt says.
Deputy Prime Minister Nick Clegg played down reports that the cost of the Libya operation would lead to extra cuts.
The defence review called for the Royal Navy and RAF to lose 5,000 jobs each, the Army 7,000 and the Ministry of Defence 25,000 civilian staff.
But the review, which was concluded before service personnel were deployed to Libya in addition to Afghanistan, failed to close a £1bn spending gap in this year's MoD budget.
Our correspondent said some spending will be either frozen or postponed. The Treasury says there has been no extra funding for the MoD.
She said there had been a lot of "juggling" of figures and that the deal agreed between the Treasury and MoD came amid increasing speculation that senior military figures were pressing Downing Street to think again about some of the cuts decided on in the review.
Mr Clegg said: "The basic judgement which we made in the Strategic Defence Review - to make savings to the defence budget, which had run completely out of control under Labour, but to do it in a way that protects what we do on the front line - that basic judgement remains the same.
"Of course, where necessary, we will make adjustments to ensure that the brave servicemen and servicewomen who are defending us in Afghanistan and elsewhere are always properly supported, but everyone is having to make savings and that includes the Ministry of Defence."
But shadow defence secretary Jim Murphy said the agreement seemed to be more about politics than defence and that there could still be more cuts to defence capability.
He said: "The defence community knows the rushed defence review did not survive its first contact with world events and needs to be reopened and thoroughly rethought.
"It would be wrong to make any further cuts to capability when our forces are in operations overseas and amidst a changing security landscape."
Professor Malcolm Chalmers, from the Royal United Services Institute, said: "I don't think there is any suggestion that things that were going to be cut are now not going to be cut.
"Rather I think it's because the spending review left a funding gap there was a danger that more capabilities would be cut beyond what had already been announced.
"Because of Libya, and also Afghanistan ongoing, it's very difficult to find areas in which to make cuts without there being very serious political problems.
"This settlement will just about balance the books for this financial year. But it doesn't address the medium-term funding gap."
Our correspondent said: "Some costs will be shifted from the MoD's budget to the Treasury special reserve, for example the allowance given to those on active duty." She added that there were also targets for efficiency savings, with a clampdown on all non-operational spending.
However, some analysts argue the MoD budget will come under renewed strain next year, with some of the pain simply deferred unless deeper cuts are made in 2012 or extra money is found for defence.
SNP defence spokesman Angus Robertson said the government must lift the threat of closure from Scottish RAF bases in light of these developments.
He said: "As jets from the Tornado and Typhoon fleets are committed to this mission in Libya, it is totally unacceptable that we have continued uncertainty over the future of their bases at home."
Related Internet Links
The BBC is not responsible for the content of external sites.