Newspaper review: Defence cuts 'rethink' considered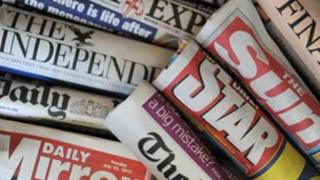 Defence cuts fill column inches in a number of Friday's newspapers.
The Daily Telegraph reports that these cuts are to be reconsidered due to the conflict in Libya. because of the conflict in Libya.
The paper quotes insiders who say it is not too late for a change of mind on the decision to cut the number of RAF Tornados and surveillance aircraft.
The Sun welcomes what it says is common sense prevailing over defence cuts but the Daily Mirror calls the decision "another humiliating U-turn".
Pain in Spain?
After the multi-billion-pound bailout for Portugal, the Daily Mail is among observers wondering whether Spain will be the next country to struggle.
The Guardian believes Spain could indeed be the next to fall given that the two Iberian countries have similar sized budget deficits.
The Financial Times thinks there is no solid reason why Portugal's failure should reflect on Spain.
However, the paper warns that the possibility cannot be excluded.
'Sin quietly'
The Independent carries a report from Ivory Coast's main city, Abidjan, where discredited leader Laurent Gbagbo is clinging to power in a bunker.
Its reporter says armed gangs and looters are marauding the streets.
And the Times leads on the High Court compensation case involving four Kenyans who say they were tortured during British rule in the 1950s.
It quotes a secret document with its headline: "If we are going to sin, then we must sin quietly."
Controversial claims
MPs' expense claims are criticised after it emerged that they claimed more than £3m in the last two months of 2010.
The Daily Express and the Daily Star turn their attention to the claims made by the former Labour prime minister, Gordon Brown.
He made just one brief speech in Parliament during that time but claimed expenses totalling more than £4,000.
That, the Express calculates, amounts to £16 for every second that he spoke in the Commons.