Sunny weather set to cover UK over weekend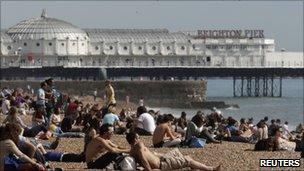 The UK will be basking in hot sun this weekend as the high temperatures look set to spread.
On Friday, parts of Britain will be hotter than Athens, Istanbul, LA and New York, with temperatures predicted to reach 22C (70F).
Average temperatures for this time of year are 7C (45F) in Scotland, and 12C (54F) in London.
BBC Weather's Frances Beckerleg said southerly winds were bringing the warm air - as well as Saharan dust.
However, she said, while the weather would last for a few days, there would be some showers around on Sunday.
The airstreams, which are coming from Africa, are carrying particles of sand from the Sahara desert - an event which happens about twice a year in the UK.
Unlike the south of England, cloud covered swathes of Wales, the Midlands and East Anglia on Thursday.
But a large area of high pressure is expected to cover virtually all of the UK on Friday, bringing with it a fine day with spells of sunshine across the UK.
London and the Home Counties have basked in warm sunshine for the past two days, with mid-afternoon temperatures reaching 22C (71.6F) in Gatwick, West Sussex, and Charlwood, Surrey, on Thursday.
This equalled the highest recorded 7 April temperature of 22C (71.6F) - recorded in Achnashellach, in the Highlands of Scotland, in 1974.
The good weather comes as many take advantage of the late Easter, school holidays and Royal Wedding bank holiday to take an extended break.
The UK's biggest airport, London Heathrow, said this weekend would be the busiest of the Easter period - it handled 102,831 passengers on Thursday and is expecting 326,000 on Friday, Saturday and Sunday combined.
Meanwhile, the RSPCA has issued a warning to pet owners, reminding them of the dangers of leaving animals in hot cars, conservatories or caravans.
Related Internet Links
The BBC is not responsible for the content of external sites.