Hacking row: Pressure mounts on News of the World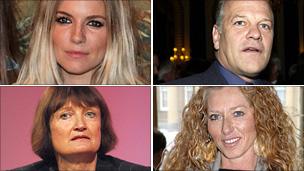 News International remains under pressure from public figures affected by the phone-hacking scandal after its apology and admission of liability.
It admitted there were at least eight victims of hacking by News of the World and has put aside £20m in compensation.
News International's admission risks opening it up to more legal action.
Lord Prescott, who says he was a hacking victim, wants parent company News Corp's proposed takeover of BSkyB delayed while police investigate.
But the government said its decision on the merger would not be influenced by the hacking controversy.
During a campaign visit to Swindon, Labour leader Ed Miliband said it was important to "get to the bottom of any criminal behaviour" and establish "who knew about these actions and when".
For years News International insisted there had been just one "rogue" reporter involved in the hacking of phones.
BBC media correspondent Torin Douglas says now more public figures could sue, MPs claim Parliament has been misled, and some lawyers say there is likely to be greater pressure on the police to bring charges.
Mark Lewis, a solicitor involved in several of the current cases, said people still did not know what the the newspaper was apologising for and urged it to widen its apology to the "thousands" he claimed were victims.
He said the tabloid paper's admission was just the "first stage" and suggested other newspapers would also come under scrutiny, some of whom were hardly covering the story.
The admission also ramps up pressure on the Metropolitan Police, which has been criticised for its handling of the original investigation into hacking and for its relationship with the press.
Brian Paddick, the Met's former deputy assistant commissioner who says his phone messages were intercepted, said the relationship between the police and press had been at times "unhealthy".
He told the BBC either individual officers were too close to editors, or the "media machine" at Scotland Yard went too far in trying to promote good relations.
Guardian editor Alan Rusbridger, whose paper has widely reported the hacking scandal, said the admission that former culture secretary Tessa Jowell's phone was tapped was a "very serious" development.
He said: "You've got a company effectively bugging its own commissioning minister. Just imagine if a bank was found hacking into the chancellor of the exchequer's e-mails."
BBC business editor Robert Peston said News International was offering to settle with eight people, including well-known names such as Ms Jowell, designer Kelly Hoppen and sports broadcaster Andy Gray.
In addition to Ms Miller, the others are believed to David Mills, the lawyer and Mrs Jowell's estranged husband; Joan Hammell, former aide to Mr Prescott; Nicola Phillips, assistant to publicist Max Clifford; and former Olympian and talent agent Sky Andrew.
Mr Clifford, who has received a reported £1m in an out-of-court settlement with the News of the World (NoW), says he would be "very surprised" if more criminal charges did not now follow.
He told the BBC: "You can only imagine that as more comes to light, the more the police find out, and the more information and facts emerge, then the more likelihood there is of criminal charges for other people."
Liberal Democrat deputy leader Simon Hughes, whose phone messages were hacked, said there was more at stake than simply paying out money to draw a line and silence people.
He said: "If people have committed serious criminal offences, either those who have already been arrested or others, they need to be pursued through the courts and sent to prison because this is a completely unacceptable practice."
But Paul Cunnew, a former deputy editor of the NoW, said the affair raised "worrying" questions that threatened to undermine the very freedom of the press.
'Extensive investigation'
He said: "There are many people who are in jail because of the NoW's genuine, serious investigations... you've got to be very careful here that this isn't seized upon by people who resent a free press."
With News Corporation's bid for BSkyB still awaiting government approval, former Deputy Prime Minister Lord Prescott said the takeover should be blocked until all the investigations are complete.
He said: "I say this to the government - don't you dare make this announcement while the Commons and Lords are in recess unless you've done a proper judgement on this company.
"And what they've said to me is 'don't get the plurality of the media mixed up with criminal offences'."
The Department of Culture, Media and Sport said its decision on BSkyB would not be influenced by the hacking controversy.
A spokesman said: "The culture secretary has to make a quasi-judicial decision about the impact of the proposed merger on media plurality issues alone.
"Legally the culture secretary cannot consider other factors as part of this process and under law phone-hacking is not seen as relevant to media plurality."
News International said the announcement related to voicemail interception between 2004 and 2006, and it followed an "extensive internal investigation" and disclosures through civil cases.
The firm said it had asked its lawyers to "establish a compensation scheme with a view to dealing with justifiable claims fairly and efficiently".
But it added: "We will, however, continue to contest cases that we believe are without merit or where we are not responsible."
News International, which is owned by Rupert Murdoch and also owns the Times and Sun newspapers, said it would continue to co-operate with the Metropolitan Police inquiry.
The company has approached the judge with a way of settling all the cases as a group, and he is planning to hold a case conference on Friday.