Newspaper review: Papers focus on phone hacking apology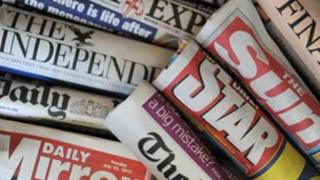 The Independent believes the public apology by News International in the phone-hacking affair is "seismic".
The Guardian says it is a remarkable volte-face by the country's most powerful news organisation.
However, it believes the announcement is designed to keep cases out of court.
The Times - part of the News International group - says the setting up of a multi-million pound fund to pay compensation is part of a fair resolution of the affair.
Flood of complaints
But the Financial Times believes News International is not yet "off the hook" over the phone-hacking affair.
It argues that the way the group has owned up does not excuse the "feeble" way the police handled their inquiries.
The Daily Telegraph says the company's admission of culpability is expected to prompt a flood of other complaints.
However, the Sun - a member of the News International stable - limits its coverage to three short paragraphs on page two.
Dreading return
Many of the papers choose to lead with the shooting dead of a man on board the British nuclear submarine HMS Astute, docked in Southampton.
The Sun reports that the serviceman who is being questioned about the attack had been dreading going back to sea.
The Daily Mirror hears from former submariner Jason Lockley.
He explains that the conditions usually resemble a close-knit family - and that if someone is feeling down it is noticed and people step in.
Doggie diet
A picture of a rather fat border collie called Cassie can be found in many of the inside pages.
The Daily Mail explains that her owner had fed her a diet of fish and chips, roast dinners, sweets, crisps, takeaways and fry-ups.
As a result she could barely walk and it took three people to lift her.
Cassie is now on a strict diet - and according to the Daily Express she is getting used low calorie dog food despite initially turning her nose up.