Newspaper review: Papers focus on phone hacking apology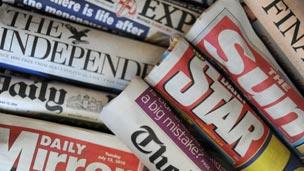 However, it believes the announcement is designed to keep cases out of court.
The Times - part of the News International group - says the setting up of a multi-million pound fund to pay compensation is part of a fair resolution of the affair.
But the Financial Times believes News International is not yet "off the hook" over the phone-hacking affair.
It argues that the way the group has owned up does not excuse the "feeble" way the police handled their inquiries.
However, the Sun - a member of the News International stable - limits its coverage to three short paragraphs on page two.
Many of the papers choose to lead with the shooting dead of a man on board the British nuclear submarine HMS Astute, docked in Southampton.
He explains that the conditions usually resemble a close-knit family - and that if someone is feeling down it is noticed and people step in.
A picture of a rather fat border collie called Cassie can be found in many of the inside pages.
As a result she could barely walk and it took three people to lift her.
Related Internet Links
The BBC is not responsible for the content of external sites.