Libya: RAF Tornados destroy seven Libyan tanks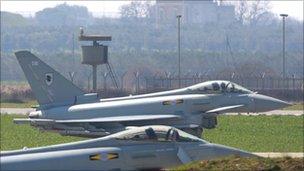 RAF Tornados have destroyed seven tanks in Libya as air strikes there continue, the Ministry of Defence (MoD) has said.
The jets hit two tanks in Ajdabiya and five in Misrata on Friday - areas which have seen fighting between rebels and Col Muammar Gaddafi's troops.
RAF Typhoons have also been involved in policing the UN-backed no-fly zone.
The MoD also said HMS Cumberland would return to the UK after HMS Liverpool took over its surveillance and embargo operations alongside HMS Brockelsby.
A spokesman said the Tornado GR4 planes used Brimstone missiles and Paveway IV bombs.
He said: "The weapons were discharged as part of armed air reconnaissance and overwatch patrols conducted over Misrata, Brega and Ajdabiya.
"RAF Typhoon aircraft conducted defensive counter air patrols as part of the no-fly zone enforcement."
Prime Minister David Cameron announced earlier this week that an additional four RAF Tornados would be sent to Italy, joining 18 RAF jets already deployed.
A total of 34 nations are now involved in operations in Libya.
The latest strikes come after Nato said it would not apologise for a bomb attack on a rebel convoy of tanks in Brega on Thursday, in which at least four people died.
The deputy commander of Nato's Libya operations, Rear Admiral Russ Harding, said they were not aware opposition troops had started using tanks.
But rebel commander General Abdelfatah Yunis said Nato had been informed of the movement of the tanks, and had even been given their co-ordinates.
Meanwhile, a team of African leaders, headed by South African President Jacob Zuma, is heading for Libya this weekend on a key diplomatic mission.
The five heads will visit both Tripoli and the rebel-held city of Benghazi to push for a truce between the forces of Col Gaddafi and the opposition.
Mr Zuma's team includes leaders from DR Congo, Mali, Mauritania and Uganda.
Their first stop will be in Mauritiania on Saturday before going on to Tripoli on Sunday.
State-run Libyan television has broadcast pictures of Col Gaddafi at a school in Tripoli - his first TV appearance in days.
Pupils shouted anti-Western slogans during the visit, which the TV said occurred on Saturday morning.
Related Internet Links
The BBC is not responsible for the content of external sites.