UK travellers urged to have measles jab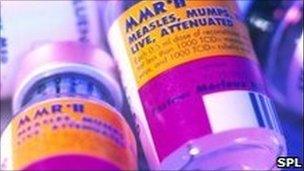 Families flying off to European destinations over Easter have been urged to vaccinate their children against measles before they go.
Several countries, including Denmark, France, Germany, the Netherlands and Turkey have all seen sharp increases in cases of the virus this year.
The Health Protection Agency (HPA) says overseas travel is a major factor in the international spread of the virus.
It recommends children are fully immunised with two doses of MMR.
Adults who have only had one dose of MMR should consider being vaccinated again to protect themselves, the HPA says.
"The HPA is issuing advice to schools and health professionals on measles and recommends that children are fully immunised with two doses of MMR before travelling to Europe for holidays," a spokeswoman said.
Measles is highly contagious and causes a range of symptoms, including fever, coughing and spots on the skin.
The virus is contained in the millions of tiny droplets that come out of the nose and mouth when an infected person coughs or sneezes.
France reported more than 1,500 cases of measles in 2009, more than 4,500 in 2010 and nearly 1,000 cases in January 2011 alone.
Turkey recently reported an outbreak in Istanbul, as well as cases linked to a large outbreak in Bulgaria in 2010.
Related Internet Links
The BBC is not responsible for the content of external sites.