Soldier dies year after Afghanistan blast wounds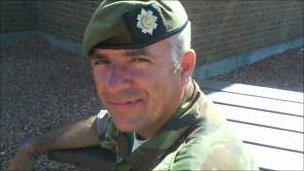 A soldier injured by a roadside bomb in Afghanistan last year has died, the Ministry of Defence has said.
Colour Sergeant Alan Cameron, 42, of 1st Battalion Scots Guards was wounded while on foot patrol in an area north of Lashkar Gah on 13 April 2010.
The father-of-one was recovering after several difficult operations but died "suddenly" at home in Livingston on 31 March from his injuries, the MoD said.
The number of UK personnel to have died in Afghanistan since 2001 is now 363.
Another Scots Guardsman was injured in the same incident last year.
An MoD spokesperson said the results of a post-mortem examination found Colour Sgt Cameron's death was directly attributable to the injuries he suffered.
Colour Sgt Cameron's family paid tribute to him, saying they were "devastated by the sudden loss of a dear family member, who has sadly lost his battle to overcome injuries sustained on operations".
They added that "Cammy" had fulfilled his childhood dreams of becoming a soldier in 1989 when he joined the Scots Guards.
"He was very passionate about army life.
"He loved the challenges involved in operating in an operational environment," they said.
His commanding officer, Lt Col Lincoln Jopp, described Colour Sgt Cameron as a "real father figure in the battalion".
He said: "With his greying hair and knowing smile he was someone everyone looked up to and admired, particularly me. He was a gentleman in all the best meanings of that word."
He added: "It was out of a clear blue sky that we heard that he had collapsed and died in Livingston. It has hit us all very hard."
Last December Colour Sgt Cameron discussed his head injury with the Prince of Wales at a memorial service.
Speaking after the event, he said: "From the point where I was injured to the point where I woke up three weeks later, I don't remember anything.
"My colleague was blasted one way and I was blasted the other.
"My recovery was a bit up and down until September, but I've just carried on and kept going and I'm still here now."
Colour Sgt Cameron was treated at the MoD's Headley Court rehabilitaion centre where he was said to have been an "inspiration to many there, not least the younger soldiers suffering from similar head injuries".
Major Rupert Kitching added Colour Sgt Cameron's "tragic and untimely death is sorely felt".
"His recovery had been nothing short of remarkable and was testament to his true grit and determination and the tireless support of his family and friends," he said.
"Selfless as ever Cammy had, throughout his rehabilitation, provided advice and support to others, his own recovery providing inspiration and hope to so many."
Colour Sgt Cameron, who was said by one comrade, Warrant Officer Class 1 AI Mackenzie, to have been a "passionate rugby enthusiast", was also presented to the Princess Royal at this month's Six Nations match between England and Scotland.
WO Mackenzie said: "The Calcutta Cup will never be the same again for me, having had the chance to spend the last one with Cammy, both of us hoping it was to be our beloved teams finest hour. No such luck!"
Related Internet Links
The BBC is not responsible for the content of external sites.