Hacking row: Miliband calls for 'criminal' probe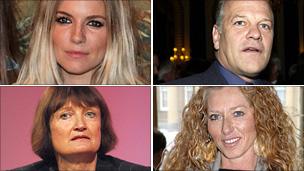 Labour leader Ed Miliband has called for a thorough investigation of alleged "criminal behaviour" at the News of the World.
It comes after News International admitted there were at least eight victims of the phone-hacking scandal.
The company issued an apology and put aside £20m for compensation.
Lawyer Charlotte Harris, involved in several of the current cases, said there would now be a "massive flood of people contacting lawyers".
She told the BBC some of her clients - who include football agent Sky Andrew and actors Leslie Ash and Lee Chapman - had already been contacted by News International and were considering their options.
For years News International insisted there had been just one "rogue" reporter involved in the hacking of phones.
During a campaign visit to Swindon, Mr Miliband said: "What we have seen is a serious admission of wrongdoing by News International.
"We have now got to get to the bottom of any criminal behaviour, which is a matter for the police and should be thoroughly investigated. We need to know who knew about these actions and when."
Former MP George Galloway said he had recently been shown by the Met Police "incontrovertible proof" that his phone had been hacked, including five times in one day in April 2003.
He said News International chief executive Rebekah Brooks, formerly NoW editor, should be questioned urgently by the police.
"When my case comes to court I will be citing her and my counsel will be demanding answers about her part in this."
News International, which is owned by Rupert Murdoch and also owns the Times and Sun newspapers, said it would continue to co-operate with the Metropolitan Police inquiry.
It said the apology related to voicemail interception between 2004 and 2006.
Meanwhile, former Deputy Prime Minister Lord Prescott, who says he was a hacking victim, wants parent company News Corp's proposed takeover of BSkyB delayed while police investigate.
But the government said its decision on the merger would not be influenced by the hacking controversy.
A Department of Culture, Media and Sport spokesman said: "Legally the culture secretary cannot consider other factors as part of this process and under law phone-hacking is not seen as relevant to media plurality."
BBC business editor Robert Peston said News International was offering to settle with eight people, including former culture secretary Tessa Jowell, designer Kelly Hoppen and sports broadcaster Andy Gray.
Mrs Jowell's estranged husband David Mills, Joan Hammell, former aide to Lord Prescott, Nicola Phillips, assistant to publicist Max Clifford, and former Olympian and talent agent Sky Andrew are also believed to have been offered compensation.
Actress Sienna Miller's solicitor Mark Thomson, of law firm Atkins Thomson, said his client had not accepted any offer of settlement.
"She is awaiting information and disclosure from the News of the World which has been ordered by the court and will consider her next steps once this is provided.
"Her primary concern is to discover the whole truth and for all those responsible to be held to account," he said.
Mr Clifford, who has received a reported £1m in an out-of-court settlement with the News of the World (NoW), says he would be "very surprised" if more criminal charges did not now follow.
He told the BBC: "You can only imagine that as more comes to light, the more the police find out, and the more information and facts emerge, then the more likelihood there is of criminal charges for other people."
Liberal Democrat deputy leader Simon Hughes, whose phone messages were hacked, said there was more at stake than simply paying out money to draw a line and silence people.
He said: "If people have committed serious criminal offences, either those who have already been arrested or others, they need to be pursued through the courts and sent to prison because this is a completely unacceptable practice."
But Paul Cunnew, a former deputy editor of the NoW, said the affair raised "worrying" questions that threatened to undermine the very freedom of the press.
He said: "There are many people who are in jail because of the NoW's genuine, serious investigations... you've got to be very careful here that this isn't seized upon by people who resent a free press."
The admission also ramps up pressure on the Metropolitan Police, which has been criticised for its handling of the original investigation into hacking and for its relationship with the press.
Brian Paddick, the Met's former deputy assistant commissioner who says his phone messages were intercepted, said the relationship between the police and press had been at times "unhealthy".
He told the BBC either individual officers were too close to editors, or the "media machine" at Scotland Yard went too far in trying to promote good relations.