News of the World hacking apology 'not enough'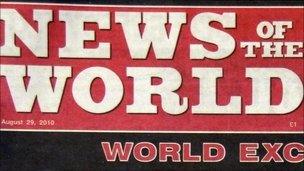 Lawyers for two of the News of the World's (NoW) phone-hacking victims have said the paper's apology and offer of compensation are not enough.
The paper is thought to be offering settlements to at least eight people whose voicemail was listened to.
But legal action by actress Sienna Miller is to continue and publicist Nicola Phillips has rejected an offer.
Meanwhile, another lawyer for people who have accused the NoW, said up to 7,000 people may have been affected.
Charlotte Harris represents football agent Sky Andrew and several other celebrities.
She said Mr Andrew's position was the same as that of Ms Miller and Ms Phillips and they would not accept a settlement until full disclosure about the newspaper's behaviour was made.
Ms Harris told BBC Radio Four's The World This Weekend programme: "If you consider that if you hack into one person's phone, you have access to everyone who has left a message for them.
"And then, if you go into the person who has left a message, you get all of theirs. You have got to be running into several thousand, just from that methodology. To put a figure on it, it is certainly not a handful - maybe 4,000, 6,000, 7,000 - a huge amount of people."
The paper said of the victims: "Here today, we publicly and unreservedly apologise to all such individuals."
It added in a page two article that the hacking "should not have happened" and "was and remains unacceptable".
The NoW's owner, News International, has admitted there were at least eight victims and has put aside £20m for compensation.
The paper said a number of individuals had brought breach of privacy claims against it over wrongful "voicemail interceptions" between 2004 and 2006, and others were threatening to do so.
Cabinet minister Danny Alexander told BBC One's Andrew Marr show the voicemail hacking was "outrageous" and a "very serious scandal" and both a Metropolitan Police's investigation and legal action "must go forward".
But echoing an earlier government statement, he said the affair would have no bearing on the "completely separate" bid by Rupert Murdoch's News Corp - News International's parent company - to take over broadcaster BSkyB.
Mayor of London Boris Johnson told Sky News there should be a "truth and reconciliation commission" where editors could come forward to say if anything happened at their newspapers.
Mark Lewis, representing Ms Phillips, assistant to publicist Max Clifford, said his client had turned down an offer from the NoW.
Ms Miller's lawyer Mark Thomson said she had not accepted any offer of settlement from the NoW over phone-hacking.
He said: "Sienna's claims are based on outrageous violations of her privacy. Her primary concern is to discover the whole truth and for all those responsible to be held to account."
The NoW's apology stated: "Evidence has recently come to light which supports some of these claims.
"We have written to relevant individuals to admit liability in these civil cases and to apologise unreservedly, and will do the same to any other individuals where evidence shows their claims to be justifiable.
"We hope to be able to pay appropriate compensation to all these individuals, and have asked our lawyers to set up a compensation scheme to deal with genuine claims fairly and efficiently."
The BBC understands that News International is ready to settle claims with eight people, including former Culture Secretary Tessa Jowell, her estranged husband, lawyer David Mills, designer Kelly Hoppen, sports broadcaster Andy Gray, and Joan Hammell, a former aide to ex-Deputy Prime Minister Lord Prescott.
There are 24 active claims against the paper being heard by High Court judge Mr Justice Vos.
In 2007, the first police investigation led to the convictions and imprisonment of then NoW royal editor Clive Goodman and private investigator Glenn Mulcaire, who was employed by the paper.
Last week, the NoW's chief reporter Neville Thurlbeck, 50, and former news editor Ian Edmondson, 42, were arrested on suspicion of having unlawfully intercepted voicemail messages. They were subsequently released on bail until September.
News International - which also owns the Times and the Sun newspapers - said it would continue to co-operate with the Metropolitan Police inquiry.