Protective glasses for British forces in Afghanistan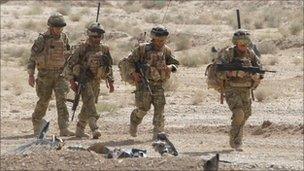 British soldiers in Afghanistan are to be offered protective goggles which can withstand bomb blasts.
The Ministry of Defence said the Sawfly Military Eyewear System and the Bullet Ant Goggle System should provide protection from shrapnel and dirt.
Improvised explosive devices (IEDs), often hidden by the roadside, are a major cause of casualties in Afghanistan.
The glasses, which cost £3.4m to develop, will be issued from September.
Colonel Peter Rafferty, team leader for Defence, Equipment and Support's Personal Combat Equipment Team, said: "All troops currently in Afghanistan are issued with protective eyewear as standard and these new additions are an enhancement over what is already out there.
"In addition to the ballistic protection these items offer, IEDs are a significant threat to our troops in theatre and the debris and dirt thrown up from a blast can be just as harmful to troops as the initial blast or fragmentation itself."
Col Rafferty said: "This protective eyewear is the best chance they have of minimising injuries to the eyes while still maintaining situational awareness and thus the ability to do their jobs."