Newspaper review: Phone hacking coverage continues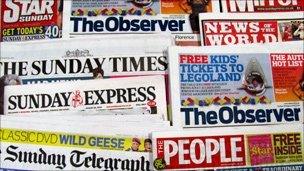 The fallout from News International's admission that some public figures were hacked into shows no signs of receding.
It follows further details about the sailor being questioned by police over the fatal shooting of a serviceman on the nuclear submarine HMS Astute.
It hears from the charity Animal Aid, which calls the race "barbaric".
Through tears of joy, Ginger jokes that the victory proves a good trainer can come from anywhere "despite the breeding".
A number of editions focus on a new book by Kate McCann - whose daughter Madeleine disappeared four years ago.
Related Internet Links
The BBC is not responsible for the content of external sites.