Newspaper review: Phone hacking coverage continues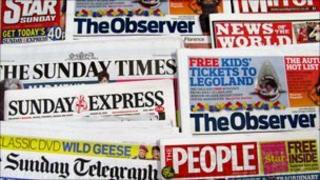 The fallout from News International's admission that some public figures were hacked into shows no signs of receding.
The News of the World, the paper at the centre of the phone row, has printed a full apology but pledged to contest cases it believes are "without merit".
The Sunday Telegraph reports that there could be as many as 100 victims.
And the Independent on Sunday claims Princess Eugenie may have had her phone hacked after details emerged of an attempted mugging in Cambodia in 2009.
Human cost
The Royal Navy's recruitment policy is scrutinised in the Mail on Sunday.
It follows further details about the sailor being questioned by police over the fatal shooting of a serviceman on the nuclear submarine HMS Astute.
The human cost of the conflict in Libya features prominently in the Sunday Times after its correspondent reached the rebel held city of Misrata.
The Observer says anger among Lib Dem activists may have serious implications for the coalition's NHS reforms.
'Barbaric'
The death of two mounts in Saturday's Grand National at Aintree prompts the People to ask "Is it time to stop killing horses in the name of sport?".
It hears from the charity Animal Aid, which calls the race "barbaric".
The Sunday Express focuses on the 14-1 winner Ballabriggs trained by Donald McCain, whose father - Ginger - led Red Rum to three wins in the big race.
Through tears of joy, Ginger jokes that the victory proves a good trainer can come from anywhere "despite the breeding".
'Barbecue Britain'
A number of editions focus on a new book by Kate McCann - whose daughter Madeleine disappeared four years ago.
The Sunday Express says Mrs McCann has decided against a publicity tour as she is concerned about her safety.
After temperatures nudged past 21C (70F), the Mail on Sunday says "Barbecue Britain" has been sizzling in the sun.
The Sunday Mirror, meanwhile, says the UK was hotter than Los Angeles, and predicts the mini-heatwave will continue until the middle of the week.