Prince Harry back from Walking With The Wounded trek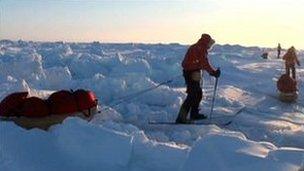 Prince Harry has arrived back in the UK after four days on a trek to the North Pole with wounded servicemen.
He spent three days training in Norway but the walk did not begin until Tuesday after dangerous winds delayed the team's flight to the start point.
The group is aiming to raise £2m for the Walking With The Wounded charity.
The prince, who returned because of military commitments, said: "What an amazing experience... a lot harder and colder than any of us realised".
He added: "I'm very pleased to be back, but all the credit here goes to the lads who have weeks more of trekking to get to the North Pole. Their strength, motivation and stamina is out of this world."
The four servicemen were all injured in combat in Afghanistan, and hope to enter the record books as the first disabled team to walk unassisted to the North Pole.
They are raising money for Walking With The Wounded, which helps injured troops.
Harry said: "They deserve to get that World Record, more than anybody else, and I'll be watching them now every step of the way."
The prince's return home was also delayed. But it meant he was able to spend an extra 24 hours on the trek while repairs were made to the Borneo Ice Airfield, about 200 miles (320km) from the North Pole.
Harry, who is patron of Walking With The Wounded, is a training to be an Apache helicopter pilot and returns to his military studies next week, ahead of his brother's wedding at the end of the month.
The servicemen men taking part in the four week mission are: Capt Martin Hewitt, 30, whose right arm is paralysed after being shot; Capt Guy Disney, 29, whose right leg was amputated below the knee after he was hit by a rocket-propelled grenade (RPG); Sgt Stephen Young, 28, who suffered a broken back in a roadside bombing; Pte Jaco Van Gass, 24, who had his left arm amputated and suffered significant tissue loss to his left leg after being hit by an RPG.
They are being joined by two of the charity's founders, Edward Parker and Simon Dalglish, and polar guide Inge Solheim.
Related Internet Links
The BBC is not responsible for the content of external sites.