Nuclear submarine sailor charged with murder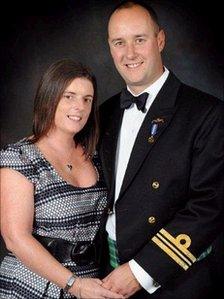 A man has been charged with murder and three counts of attempted murder following a shooting on board nuclear submarine HMS Astute.
Lt Cdr Ian Molyneux, 36, of Wigan, Greater Manchester, was shot dead on the submarine while it was docked in Southampton on Friday.
A second man, Lt Cdr Christopher Hodge, was also shot and remains in hospital.
Able Seaman Ryan Samuel Donovan, 22, of Dartford, Kent, is due to appear before magistrates in Southampton on Monday.
The Royal Navy serviceman has also been charged with the attempted murders of Petty Officer Christopher Brown, 36, Chief Petty Officer David McCoy, 37, and Lt Cdr Hodge, 45, Hampshire Police said.
Nick Hawkins, chief Crown prosecutor for the Crown Prosecution Service in Wessex, said: "Having reviewed the evidence, I am satisfied that there is sufficient to charge [Mr Donovan] and that it is in the public interest to do so."
On Saturday, Lt Cdr Molyneux's widow, Gillian, paid an emotional tribute to her husband, describing the father of four as "utterly devoted to his family".
She added: "Everything he did was for us. He was very proud to be an officer in the Royal Navy Submarine Service. He will live on in our four beautiful children."
Tributes were also paid by First Sea Lord Admiral Sir Mark Stanhope and Capt Phil Buckley, captain of the Faslane Flotilla, to which HMS Astute belongs.
Capt Buckley said Lt Cdr Molyneux's loss would "be felt by his shipmates and across the service. He was, simply, a good bloke".
First Sea Lord Admiral Sir Mark Stanhope said the "tragic" incident marked "a very sad day for the Royal Navy and in particular the submarine service".
The shootings took place as local dignitaries - including the city council's mayor, chief executive and leader - were being given a tour of HMS Astute, which was on a five-day official visit to Southampton.
The submarine had been berthed in the city since Wednesday.
The 97m (318ft)-long craft is the UK's newest nuclear-powered attack submarine and is based at the Faslane Naval Base on the River Clyde.
It was named and launched by the Duchess of Cornwall in June 2007 before being welcomed into the Royal Navy in August last year.
HMS Astute ran aground on a shingle bank between the Scottish mainland and the Isle of Skye in October and remained marooned for several hours.
The submarine's nuclear reactor means it does not need refuelling and it makes its own air and water, enabling it to circumnavigate the globe without needing to surface.