Newspaper review: Papers preview banking report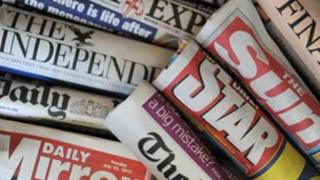 The Times says the long-awaited banking commission report will recommend that Lloyds sells off hundreds of high street branches to bolster competition.
It says Gordon Brown will be criticised for waving through Lloyds' takeover of HBOS in a deal that gave the business a dominant position in consumer banking.
The Daily Express voices concerns that the costs of overhauling the banking system could be passed on to customers.
The paper believes that would be "offensive and insane".
New allegations
The Independent considers the News of the World's apology for its illegal voicemail interceptions.
It says any hope that the new humbler stance might have taken the sting out of the scandal were dashed by a new stream of allegations.
The paper believes the publishers might have to double compensation to £40m.
Writing in the Daily Telegraph, London Mayor Boris Johnson says it is hard to believe no other newspaper groups did the same sort of thing.
Too scared
France's ban on wearing of the burka in public comes in for some discussion.
The Times says even those who see it as a symbol of subservience and oppression might query whether banning it fits comfortably in a world that respects tolerance and religion freedom.
But Leo McKinstry in the Daily Express argues that the supposedly liberal attitude of the British political elite is nothing more than cowardice.
British politicians are too scared to ban the burka, he suggests.
Party poopers
Many of the papers have fun picking through the guest list for the upcoming royal wedding.
The Daily Mirror highlights a "polo pal" of Prince William, a Transylvanian count and a former girlfriend of Prince Charles, who later introduced him to the Duchess of Cornwall.
The Sun, meanwhile, criticises councils that are making it difficult for people who want to hold street parties.
"Don't let the heir down," it cries, "let you're hair down."