Newspaper review: Papers preview banking report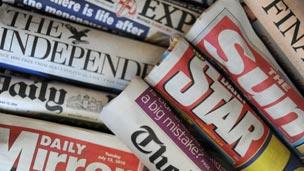 The Times says the long-awaited banking commission report will recommend that Lloyds sells off hundreds of high street branches to bolster competition.
It says Gordon Brown will be criticised for waving through Lloyds' takeover of HBOS in a deal that gave the business a dominant position in consumer banking.
The paper believes that would be "offensive and insane".
It says any hope that the new humbler stance might have taken the sting out of the scandal were dashed by a new stream of allegations.
The paper believes the publishers might have to double compensation to £40m.
France's ban on wearing of the burka in public comes in for some discussion.
The Times says even those who see it as a symbol of subservience and oppression might query whether banning it fits comfortably in a world that respects tolerance and religion freedom.
British politicians are too scared to ban the burka, he suggests.
Many of the papers have fun picking through the guest list for the upcoming royal wedding.
The Daily Mirror highlights a "polo pal" of Prince William, a Transylvanian count and a former girlfriend of Prince Charles, who later introduced him to the Duchess of Cornwall.
"Don't let the heir down," it cries, "let you're hair down."
Related Internet Links
The BBC is not responsible for the content of external sites.