More calls for tougher stalking laws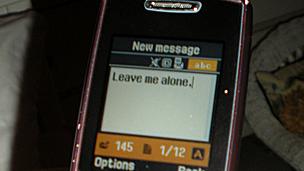 Stalking laws should be toughened up to prevent murders, say several charities.
They have proposed a stalkers' register and better training for police to identify victims.
The call for stronger laws comes as the first national stalking awareness week is launched in London, under the slogan: "Name it. Report it. Stop it".
Last month a group of MPs called for cyber-stalking to be made a criminal offence as part of a complete overhaul of the law.
The charity Network for Surviving Stalking said the internet was "another weapon in the stalker's armoury".
More than 80 MPs from all parties called for a review of the Protection from Harassment Act 1997.
The British Crime Survey suggests up to five million people a year suffer from stalking or harassment.
The national stalking awareness week is supported by Protection Against Stalking, the Suzy Lamplugh Trust and the Network for Surviving Stalking.
Laura Richards, director of operations for Protection Against Stalking, said: "Stalking is where domestic violence was 20 years ago, which is why this awareness campaign is so important.
"Some cases lead to violence including rape and murder. Early intervention in a stalking case is vital and gives the victim the best chance of protection."
They called for police to have "proper search powers for stalkers' property" and said more action was needed to tackle cyber-stalking.
Assistant Chief Constable Garry Shewan, the lead on stalking and harassment for the Association of Chief Police Officers, said: "It is important to remember that stalking isn't a 'one-off' crime.
"It's a series of incidents which when taken in isolation can appear trivial but when put together they become far more sinister.
"The challenge for the police service and other agencies is to protect victims by recognising the danger signs, by effective use of legislation and by effective and co-ordinated investigation.
"At a time when police budgets are under pressure, finding ways to share good practice and improve our response is critical."
Related Internet Links
The BBC is not responsible for the content of external sites.