Sex trafficking victim gets damages from Home Office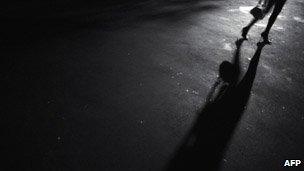 A Moldovan woman who was a victim of sex trafficking and forced into prostitution has obtained substantial damages from the Home Office.
The settlement came as a High Court hearing was about to start into claims the department had violated her rights by returning her to Moldova in 2003.
Approving the settlement, Mrs Justice Cox said the woman had been a victim of repeated trafficking.
The Home Office said the UK approach to trafficking had significantly changed.
Sitting in London, Mrs Cox said the victim had suffered severe sexual degradation and resulting psychiatric injury. She was very vulnerable and remained at significant risk of serious harm because the police had not been able to apprehend her traffickers.
The woman's solicitor, Harriet Wistrich, of Birnberg Peirce and Partners, said the woman had been kidnapped at 14 and continuously trafficked for forced prostitution in Italy, Turkey, Hungary, Romania, Israel and the UK until she was 21.
She was repeatedly beaten, raped, threatened with death, and treated as a slave.
In 2003, the woman was arrested in a London brothel by UK police and Home Office immigration officers and charged with possessing the false documents provided to her by her traffickers.
She was imprisoned for three months then sent back to Moldova.
The lawyer said the woman's trafficker was permitted to visit her in Holloway prison and Oakington detention centre, where he posed as her boyfriend in order to intimidate her.
In Moldova, she was found by her traffickers and savagely ill-treated before being re-trafficked for another two years.
Ms Wistrich said: "In an unprecedented claim, the claimant sued the Home Office for damages for failing to take any steps to protect her and for sending her back to Moldova in 2003 even though there were substantial grounds for believing she was at risk of re-trafficking.
"In 2007, after she had again been re-trafficked to the UK, she was arrested and detained again at Yarl's Wood, before eventually being referred to the Poppy project, which identified her as a victim of sex trafficking and provided her with the necessary support to make an asylum claim.
"She was eventually granted refugee status in recognition of the fact that the Moldovan authorities could not offer her adequate protection against her traffickers."
Steven Kovats QC, for the Home Office, acknowledged that the settlement was very late but said it had enabled the claimant to avoid having to go into the witness box.
He said it was an unusual case which was defensible as there were potential arguments about limitation and abuse of process, and that there had been significant developments in the treatment of trafficking victims since 2003.
Home Office minister Damian Green Green said the "very disturbing case" showed why the UK's approach to human trafficking had "significantly" changed since 2003.
"In recognition of the need to identify victims of trafficking, the UK ratified and brought into force the Council of Europe Convention on Action against Trafficking.
"We have also introduced a National Referral Mechanism to refer and identify victims of trafficking and established mandatory training for all frontline UKBA [UK Border Agency] staff on human trafficking awareness. In March we indicated that we will opt in into the EU Directive on Human Trafficking subject to Parliamentary scrutiny.
"The UK has become a world leader in fighting trafficking and has a strong international reputation in this field," he said.
Related Internet Links
The BBC is not responsible for the content of external sites.