More hacking claimants contacted by News of the World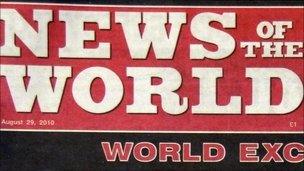 News International has written to another nine claimants in the phone-hacking scandal asking for further evidence that journalists intercepted their voicemail, it has emerged.
On Friday, the News of the World apologised to eight victims of hacking and set up a £20m compensation fund.
It has now come to light a further nine alleged victims received letters in which liability was not admitted.
One of the nine letter recipients is former MP George Galloway.
He told the BBC that the paper's lawyers were "only days away" from seeing evidence of phone hacking in his case, which he says has been disclosed to him by the Metropolitan Police.
The BBC has seen a legal letter written on behalf of the Sunday newspaper.
It says: "In the event that such evidence is produced, our client will admit liability. If, however, no such evidence is provided our client will continue to defend the claim."
Meanwhile, it has emerged that a fourth person made an out-of-court settlement with News International.
John Hewison, a lawyer who has acted for the Professional Footballers' Association (PFA) for many years, reached an agreement for breach of privacy.
It is not known how much the case was settled for nor when it was brought.
Mr Hewison, a partner at Manchester law firm George Davies, is understood to have been targeted over work he was doing for PFA chief executive Gordon Taylor.
Mr Taylor, PFA legal adviser Jo Armstrong and publicist Max Clifford have also settled out of court.
On Sunday, the News of the World printed an apology as Charlotte Harris, lawyer for a number of alleged victims, said as many as 7,000 people might have been affected by phone hacking at the paper.
The BBC understands News International is ready to settle claims with eight people, including former Culture Secretary Tessa Jowell, her estranged husband, lawyer David Mills, designer Kelly Hoppen, sports broadcaster Andy Gray, and Joan Hammell, a former aide to ex-Deputy Prime Minister Lord Prescott.
There are 24 active claims against the paper being heard by High Court judge Mr Justice Vos.
In 2007, the first police investigation led to the convictions and imprisonment of then NoW royal editor Clive Goodman and private investigator Glenn Mulcaire, who was employed by the paper.
Last week, the NoW's chief reporter Neville Thurlbeck, 50, and former news editor Ian Edmondson, 42, were arrested on suspicion of having unlawfully intercepted voicemail messages. They were released on bail until September.
News International - which also owns the Times and the Sun newspapers - said it would continue to co-operate with the police.
Scotland Yard has endured repeated criticism over its handling of the original phone hacking inquiry.
Police and prosecutors have now sought to draw a line under their differences over the scandal.
Issuing a joint statement on Monday, acting Deputy Commissioner John Yates and Director of Public Prosecutions Keir Starmer QC said: "Neither of us had responsibility for this case at the time it was originally prosecuted.
"We have therefore both sought to interpret, as best we can, the original documentation and the recollections of those involved. The relevant information is now in the public domain.
"We and others in our organisations would now like to focus together on the current investigation."
Meanwhile, the chief executive of News International, Rebekah Brooks, has told the Home Affairs Select Committee she knew of no specific cases in which newspapers had paid police for information.
The committee had asked Ms Brooks to clarify remarks made to the Culture Media and Sports Select Committee in 2003 that the paper had paid the police for information in the past.
In a letter to committee chairman Keith Vaz, she wrote: "As can be seen from the transcript, I was responding to a specific line of questioning on how newspapers get information.
"My intention was simply to comment generally on the widely held belief that payments had been made in the past to police officers.
"If, in doing so, I gave the impression that I had knowledge of any specific cases, I can assure you that this was not my intention."