Church of England in 'sham marriage' crackdown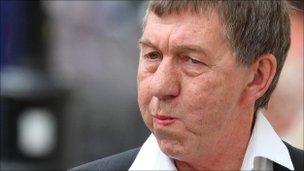 The Church of England is to issue new guidance to clergy in an attempt to reduce the number of sham marriages.
In future, couples will have to apply for a licence if either the bride or groom is from a non-European country.
Members of the clergy are also being urged to report any suspicions they have that the marriage is not genuine.
Over the past nine months, 155 people have been arrested in the UK as a result of investigations into both church and civil ceremonies.
The new guidance advises clergy not to publish banns - where a couple's intention to marry is read out in church - for marriages involving a man or a woman from a non-European country.
Instead, it says couples should apply for a "common licence", which involves the swearing of affidavits and classes.
The guidance issued by the House of Bishops - one of three houses in the General Synod - has UK Border Agency agreement.
It says if a member of the clergy is not satisfied that the marriage is genuine, he or she must make that clear to the person responsible for granting the licence.
Clergy should "immediately" report a couple to diocesan legal officers if they insist on having banns read rather than applying for a common licence under the guidance.
The Church in Wales said its clergy would be receiving training from the UK Border Agency about spotting tell-tale signs, what questions to ask and what documents to request.
A spokeswoman said sham marriages were a "relatively new problem" in Wales, perhaps because there had been a crackdown in other places.
The Church of Scotland said a marriage schedule, allowing people to marry, was issued by a registrar, who checked all of the relevant documentation.
The Church of England said clergy who refuse to conduct a wedding as a result of the guidance would not be considered guilty of misconduct.
Vicars have also been urged to contact the police immediately should they feel they are being threatened or pressured to carry out a marriage.
The Right Reverend John Packer, Bishop of Ripon and Leeds, said: "The House of Bishops is clear that the office of holy matrimony must not be misused by those who have no intention of contracting a genuine marriage.
"The purpose of this guidance and direction from the bishops to the clergy and to those responsible for the grant of common licences is, therefore, to prevent the contracting of sham marriages in the Church of England," he said.
Speaking on BBC Radio 4's Today programme, he said while the exact numbers were not known, "some clergy, in some parishes in cities" were being asked on a "fairly frequently basis" to conduct suspected sham marriages.
The new rules would protect the clergy from being "conned" and those couples who were "genuinely seeking marriage", he added.
Reverend Tim Codling had to call in the police and immigration officials after his church - St John the Baptist CoE in Tilbury, Essex - was targeted by a Nigerian gang from 2007.
He said it was a "production line", with the number of weddings tripling from 10 to 30 a year.
"It's very difficult for a priest sometimes to say no to people when you feel intimidated," he said. "I felt threatened on many occasions."
Father Codling told BBC Panorama's My Big Fat Fake Wedding programme that the sham marriages were the work of crime gangs involved in prostitution, drugs, money laundering and people trafficking.
In some cases, he added, the fake brides were "absolutely frightened".
Immigration minister Damian Green, who has backed the guidance, said the UK Border Agency already worked "very closely" with the Church to investigate and disrupt suspected sham weddings but the new advice was "another step in the right direction".
"Increasing enforcement action has resulted in 155 arrests across the country, and would-be fraudsters should remember that a marriage itself does not equal an automatic right to remain in the UK," he said.
Criminal gangs behind sham marriages had in the past exploited the ease with which the Church would marry people, he said.
But the new guidance made it necessary for vicars to take action, and removed easily exploitable "loopholes", he added.
Last September the Reverend Alex Brown, 61, was jailed for four years for his part in a sham marriage fraud which helped hundreds of illegal immigrants stay in Britain.
He abused his position to marry hundreds of African men to Eastern European women at the Church of St Peter and St Paul in St Leonards-on-Sea, East Sussex.
A Church of England spokesman said no more than a "handful" of clergy were currently suspended pending police investigations into alleged sham marriages.
"The vast majority of the 155 arrests mentioned by the immigration minister are of couples and their facilitators," he said.
Related Internet Links
The BBC is not responsible for the content of external sites.