People less satisfied with road quality, survey says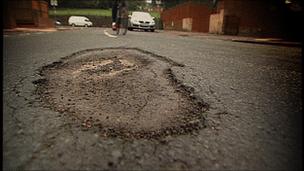 Less than a third of people are happy with the state of the UK's roads, a survey for the Institution of Civil Engineers (Ice) suggests.
The poll of 2,050 adults found satisfaction levels had fallen to 32% in the first three months of 2011, from 50% in the last three months of 2010.
Ice said potholes caused by bad weather in winter was behind much of the misery and said extra funds would not go far.
Ministers said they were providing £200m to repair roads in England.
Ice vice-president Geoff French said the extra government money was welcome but did not "equate to much when spread across a large number of authorities and won't make a dent in the huge annual budget deficit".
He said the funding shortfall would lead to a maintenance backlog and put councils under a lot of pressure.
"This leads to 'quick fix' maintenance that fails to tackle the root of the problem, leading to more work and expense for local authorities down the line, and more frustration for the public," he said.
Local Transport Minister Norman Baker said the government was providing £3bn to councils for road maintenance over the next four years and another £6m for longer-term strategies.
There was also an extra £200m to repair potholes, he said.
"It, however, remains the responsibility of local councils to plan and manage their road maintenance programmes throughout the year, including appropriate winter resilience measures," he added.
The poll also suggested satisfaction with public transport services was waning - down from 63% in the last quarter of 2010 to 52% now.
Other findings from the survey included:
72% were satisfied with electricity and gas supply to homes, compared with 78% from October to December 2010
67% were satisfied with rubbish and waste disposal services, down from 80% in the last three months of 2010
52% were satisfied with the provision of flood defences, down from 61% in the same period in 2010
80% were satisfied with drinking water and sewage services, down from 91%, again in the last three months of 2010
Related Internet Links
The BBC is not responsible for the content of external sites.